A dispatch order is a single day commitment to deliver material/product to a customer delivery location. Dispatch orders are comprised of loads rolled up into dispatch assignments. You can create and manage all of your dispatch orders from the DISPATCH screen.
[VIDEO]
Creating a Dispatch Order
Dispatch orders are created from sales order items on the Sales Orders tab.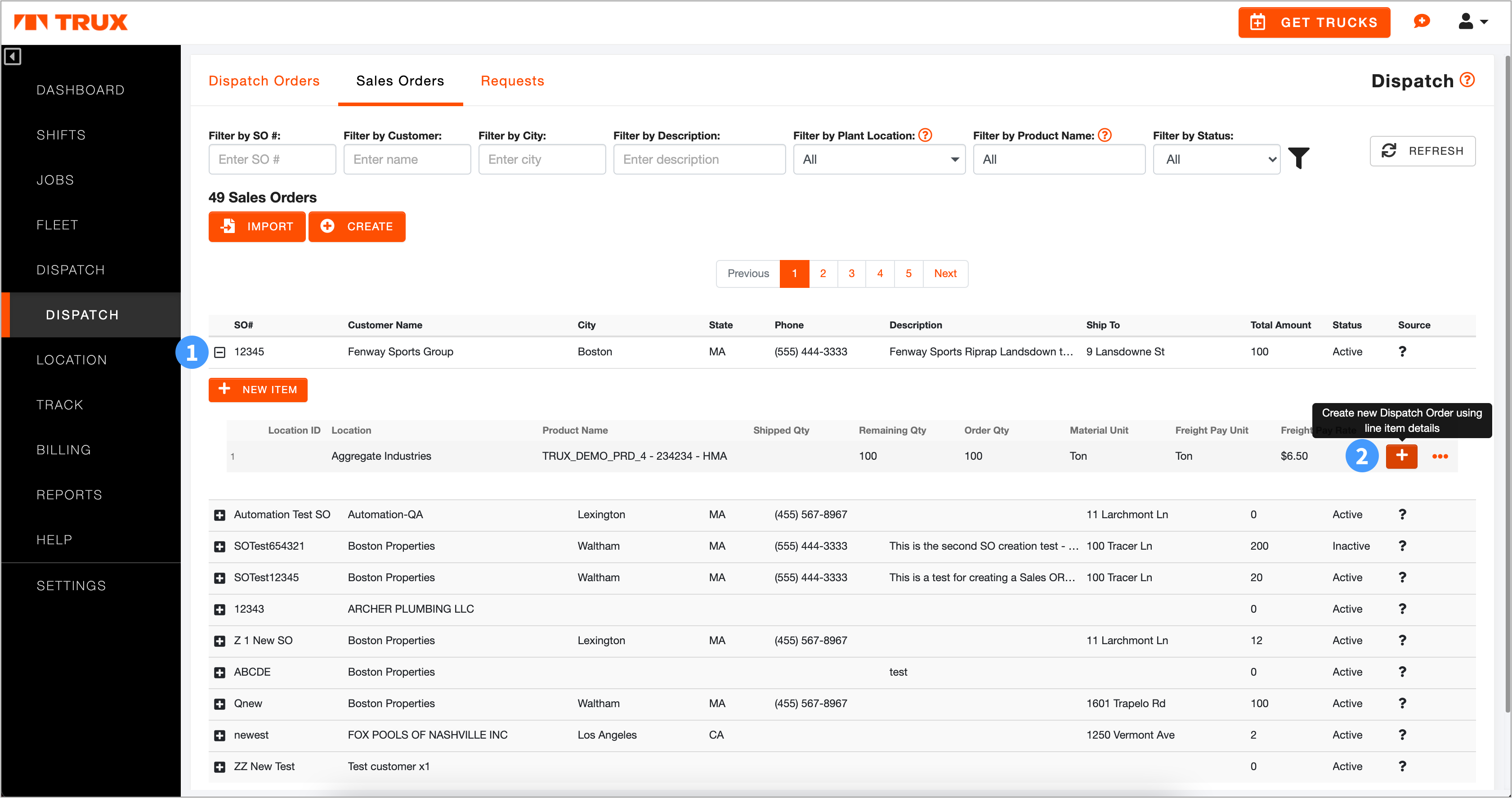 Click on a sales order from the DISPATCH and the Sales Orders tab. This will display all sales order items associated with the selected sales order.
Hover your mouse over the sales order item for which you would like to create a dispatch order, and click the + icon.


Enter a Purchase Order # and select the Order Type (ORDER DELIVERY or CUSTOMER PICKUP).
Select the start and end dates and times. Indicate whether the selected time is related to the start time (when the dispatch assignment should begin) or delivery (when the delivery should be made) (IS THIS RIGHT???). Click Enable Stagger Times if you wish to enter an arrival interval for haulers so that they don't all arrive at the same time. The arrival time for each assignment would be adjusted based on the interval you enter.
Select or enter the Start Location (where the haulers should pick up the materials) and the Delivery Location. Indicate whether the dispatch will be delivered in TONS, LOADS, or STAY ON (you notify the haulers when they are to stop deliveries).
Select which Truck Type(s) you need, the number of trucks needed, the quantity, etc. NOTE: certain fields will auto-calculate based on the Complete By selection you've made. (DESCRIBE THIS FURTHER???).
Select (or enter) the customer Contacts. These are the individuals who will receive the Delivery Tracker message. Check which customer Communications they should receive (LINK TO DELIVERY TRACKER ARTICLE).
Enter notes for the dispatcher as well as specific instructions for the hauler. They will see these Hauler Instructions in Trux Drive for each dispatch assignment.
Click SAVE to create the dispatch order.


THIS NEEDS TO BE REPLACED
Verify the customer Contact(s) email address(es). Click an email to edit if necessary. Review the Dispatch Order Confirmation preview email to make sure it's correct. Click EDIT if you need to change something on the dispatch order or SEND LATER if you don't want to send the confirmation at this time.
Click SEND NOW to send the Order Confirmation to your selected Contacts.


Click the Dispatch Orders tab to view your newly-created dispatch order.
Now it's time to dispatch haulers to your order.