TRUX knows how much time it can take to reach the haulers you need to fill your trucking needs. It can take hours finding let alone contacting local truckers to find a few available trucks. TRUX helps solve this problem by allowing contractors and material producers to tap into a virtual fleet of haulers ready to fill your jobs.
Job Start and End Locations
In most cases, the jobs you create in TRUX will have a Start and an End Location.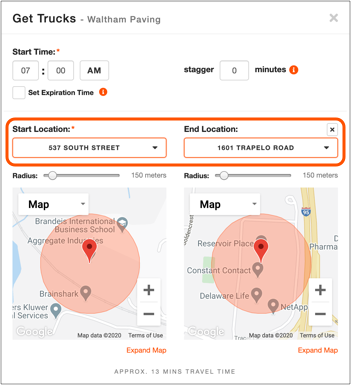 Creating a job in TRUX with a Start and End Location
These locations not only let haulers who accept your jobs know where to pick up and where to deliver your loads, but they also impact which haulers get notified of your available job(s).
TRUX Hauler Notifications
When you dispatch your job to the TRUX Marketplace, haulers within 50 miles of the job Start AND End Locations are notified.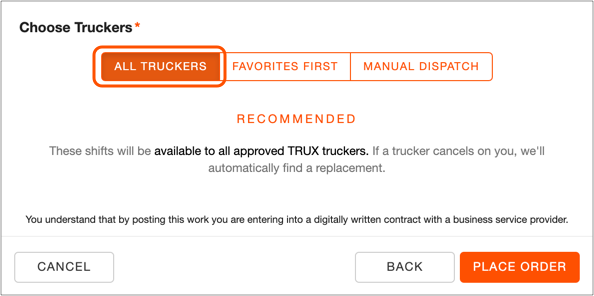 Dispatching a job to the TRUX Marketplace
Consider the following simple example that includes a Start Location (

) and an End Location (

).
In this example, three haulers are within 50 miles of the Start Location, and 3 haulers are within 50 miles of the End Location.
If only one of the locations was provided, half of the possible haulers would be notified of the job.
When you create a job on TRUX, make sure you always enter both the Start and End Locations to maximize the reach and potential size of the pool of haulers interested in filling your job.