The TRUX Marketplace is where contractors and material producers go to get trucks and where truckers go to find jobs when they need them. The Marketplace helps contractors and material producers get incremental logistics support to grow their businesses and keep pace with projects when trucker demand is high but the supply of truckers is scarce.
But how does one ensure consistent fill rates on the TRUX Marketplace? It starts with understanding what truckers see and what they are looking for. Every job that gets posted on the TRUX Marketplace includes a start (and potential end) location and a job rate. But beyond that, what other factors impact job fill rates? The following are some best practices that highlight how contractors and material producers can maximize the effectiveness of the TRUX Marketplace to secure the right number of haulers for their projects.
TRUX Marketplace Best Practices
Plan Ahead
The single biggest predictor of job fill rate success is how far in advance you post your job. Why is timing so important? Many truckers sign up for jobs that take them through a few months of work. While this may not be possible for everyone to do, you should still aim to book shifts as many days in advance as possible. For example:
Work to be done on Monday/Tuesday should be posted on Friday before. Most truckers have their work for Mon/Tues locked in by Friday afternoon (or even Thursday).

If you are posting a job for the next day, try and do so before 1:00 pm. Jobs that are posted after 1:00 pm are harder to fill as many trucks are on the road where drivers can't check the Available Jobs. Also, truckers often look for shifts during lunch.
*NOTE: You can cancel a shift up to 2 hours before the start time, so plan ahead with confidence!
The Job Details (Instructions) Matter
As a contractor, you are "selling" an opportunity to a trucker to work with them on a specific job. Present potential truckers with as much information in the job Instructions (see below) and job details as is necessary to understand the job expectations and be enticed to accept the job.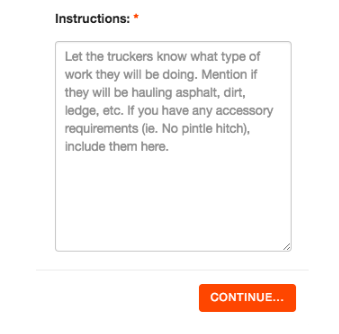 Include important details like:
Type of haul and material.

Is it a short or a long-haul? For example, if you are posting a tonnage short-haul job, note the mileage and expected loads or tons per truck so a trucker can estimate the daily revenue for the work. What type of material is to be hauled? Asphalt? Clean fill? Something else?

Haul start and end location

. This allows truckers to work out fuel costs and travel time in addition to enabling contractors to receive accurate cycle time reports.

Special equipment or truck requirements

. Is any special equipment required to haul the material? A steel bed? An asphalt tarp? A special trailer hitch? Are there any prohibited items (e.g., a pintle hook)?

The project duration.

- What is the total number of loads that can be expected? What's the length of the day? The total tonnage?

Project length. How many days of work will be available?
*NOTE: Do NOT include your contact information in the job Instructions. Anyone who views your job, whether they accept it or not, will be able to see the job Instructions. Truckers who accept your job will receive this information automatically from the Dispatch Order and/or your account settings. Also, the TRUX Drive app enables truckers to call contractors with one click, which can be especially helpful (and safe) when driving to the job site. Contact information added to the job Instructions field will not populate or enable this "hands-free" feature.
Here is an example of a good job posting: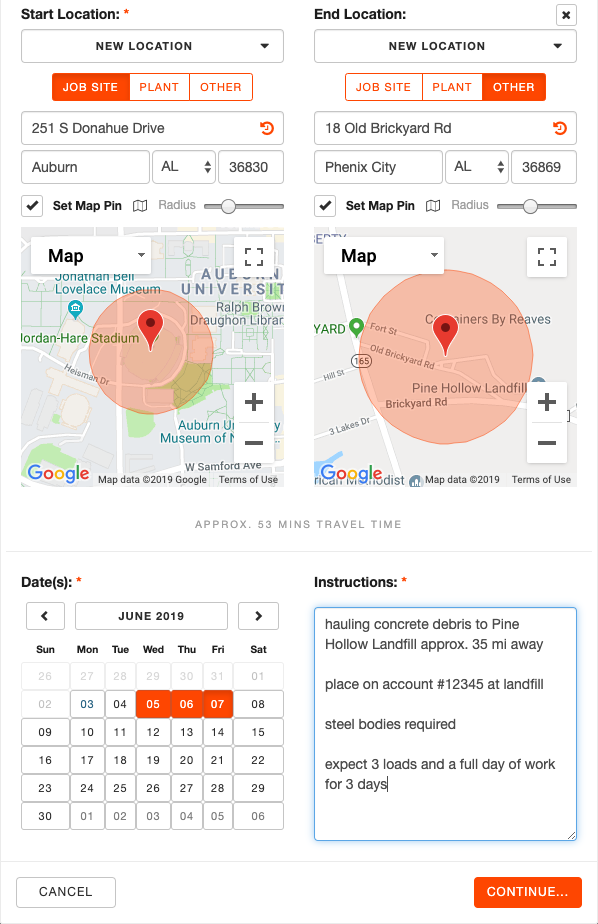 This job includes the following helpful information:
Clear start and end locations with accurate geofencing identified

The type of material to be hauled

An account number to use when dumping material at the landfill (if applicable)

Truck body type/special equipment required

Estimated number of loads, timeframe, and job duration
Other Factors Impacting Fill Rates
Adjust Your Rates Accordingly
Last-minute postings - jobs posted late in the afternoon for the next day - will likely attract a smaller group of truckers because many will have already accepted work posted earlier. Adjust your rates accordingly and be open to using multiple truck types, where possible, to ensure your job gets noticed and to increase the chances that it will be filled by truckers looking for last-minute work.
Job Titles Matter
First, it's instructive to understand what a trucker sees when you post a job on the Marketplace.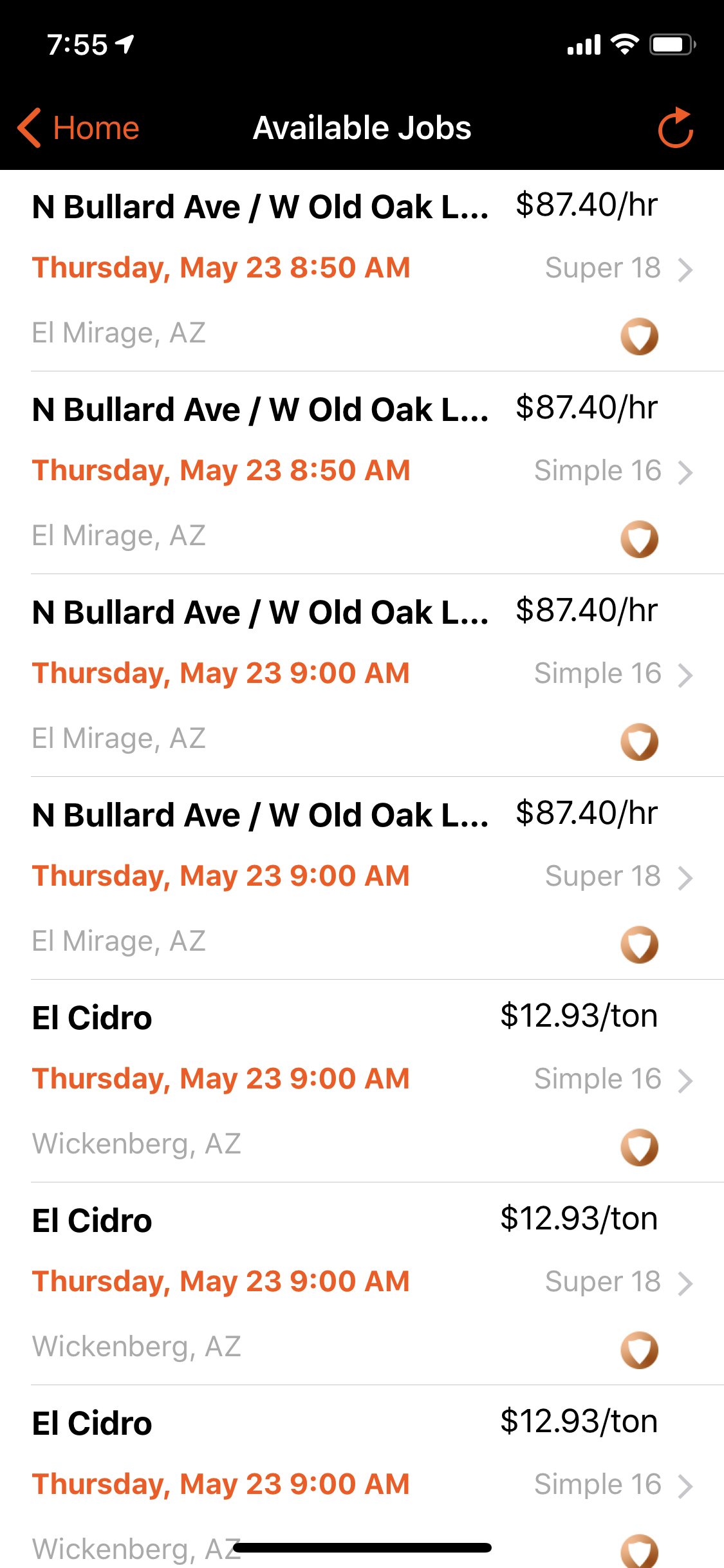 Available Jobs from within the TRUX Drive app
As you can see from the above screen, the Job Name is what a trucker sees first among a long list of potential jobs within the TRUX Drive app. Just like the subject line of an email, your target audience (truckers) are first considering your job based on the Job Name, rate, date, city, state, and truck type. Consider using a Job Name that's descriptive of the actual job itself. For example:
Concrete haul off

All-day Quarry A to Quarry B

Paving Interstate I-24
That way, truckers will immediately see some details that tell them about what kind of job is available and whether it's worth their time to "tap" the job to learn more and ultimately accept.
Build Your Favorites List
Has a trucker recently filled a shift to your satisfaction? Then consider adding them to your Favorites List. Shifts dispatched to Favorites First will be available only to truckers on this list for one hour after the order is placed. If none of your favorites accept the job, it will then automatically be offered to all approved truckers on the TRUX Marketplace.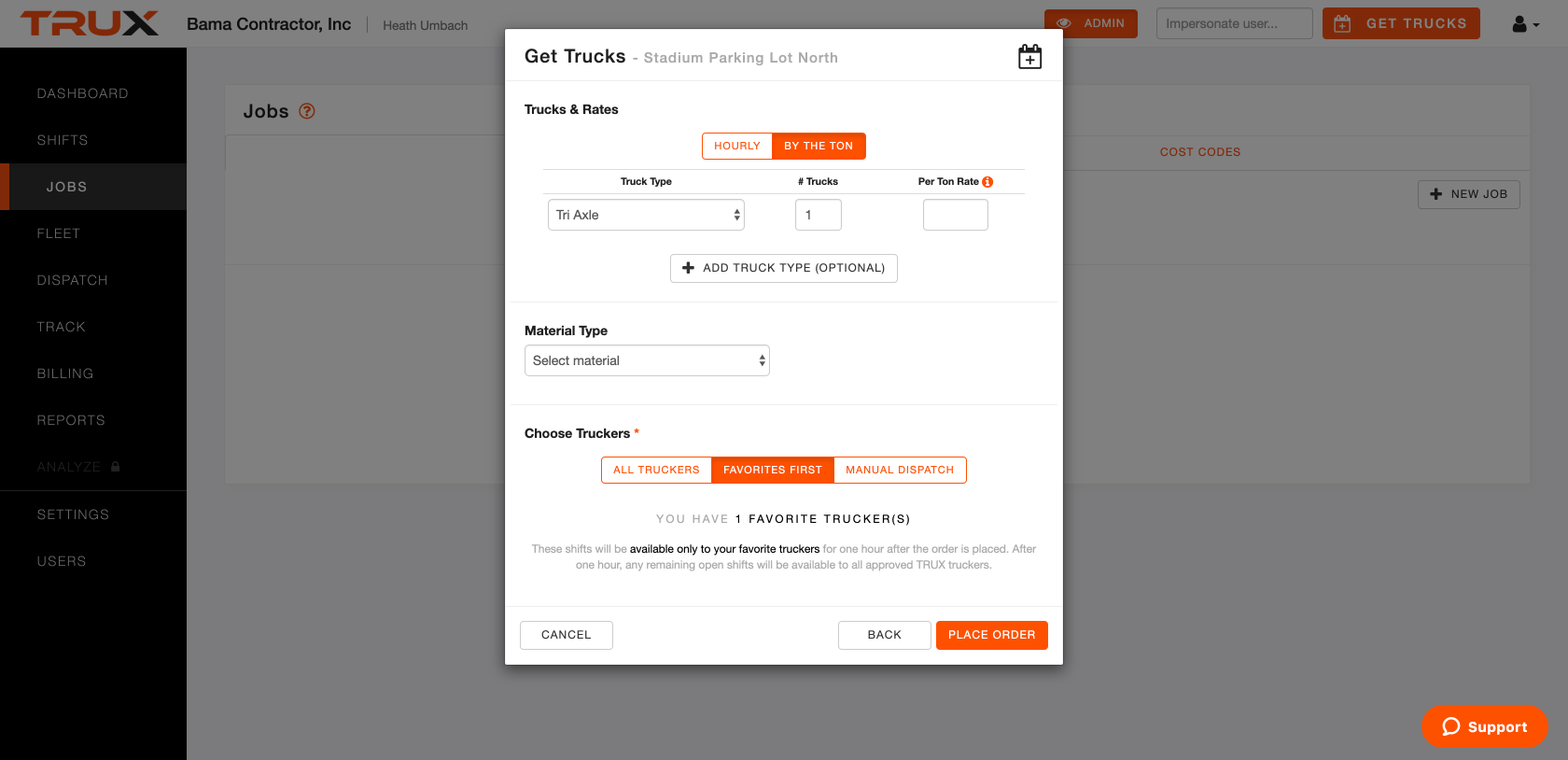 Post More Jobs to The Marketplace
The more jobs you post, the healthier your supply of 3rd party truckers will be. This is particularly important if you are planning for upcoming spikes in demand that will require more trucks than you have among your pool of regulars or owned trucks. Cultivate your network of available truckers and be ready for success!