In order to start assigning work to your drivers, you need to set up a project. A project is a job you are working on or a bid that you've won and will be dispatching your drivers to.
See how
Show me how
Click the button below to be guided through how to do this within the TRUX application.

Read how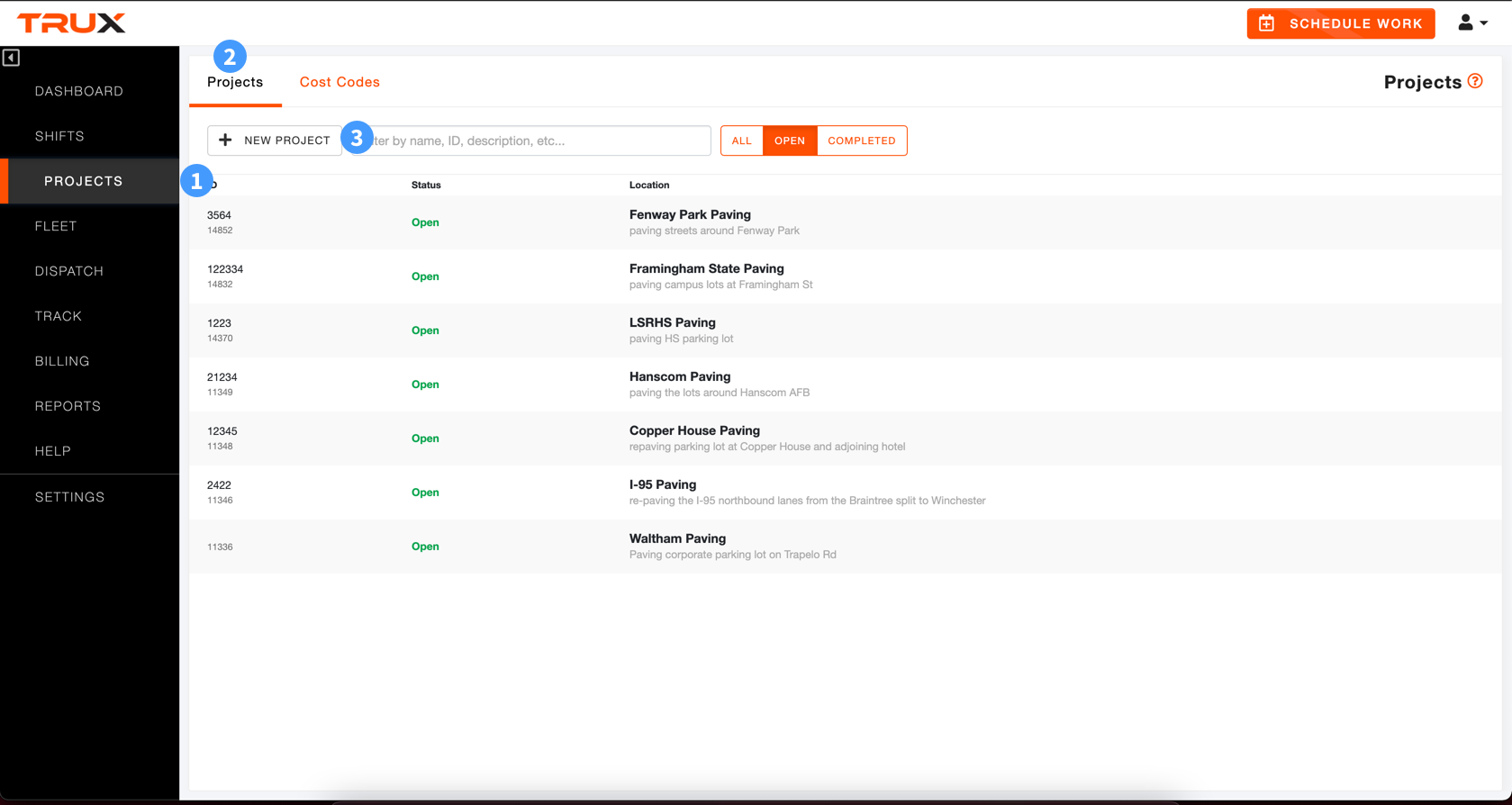 Click PROJECTS

on the left navigation menu.

Click the Projects tab.
Click +NEW PROJECT.


Project Name - Enter a name for your project. This is the name that will appear when you assign work to your drivers or post to the TRUX Marketplace.
Project Description - This is an internal description that will help you remember the job details.
Payment Terms - Although you may be assigning work to and paying your employed drivers according to your current process, you still need to indicate the payment terms that you will follow IF you end up dispatching this work to 3rd party haulers who you do not employ. These payment terms will appear on the job details for these 3rd party haulers who accept the work from you. These terms will NOT appear in the job details that your drivers see. You can also change this later for each shift you create for this project. Payment terms range from within 2, 4, or 6 weeks of shift completion or more than 6 weeks after shift completion.
Internal Project ID - Enter an Internal Project ID if you wish to group all job-related costs.
Project Instructions - These instructions will appear on every shift that you assign and tells drivers what they will need to know about the work. Do not post rates or contact numbers here. You will set the rate(s) when you post shifts for the project.
Insurance Required - Select the Insurance Required.
Bronze - $1M of Combined Single Limit
Silver - $1M of General Liability and $1M of Combined Single Limit
Prevailing Wage -

Check if applicable.

Learn more about Prevailing Wage jobs here

.

Click CREATE PROJECT.
And that's it. You are ready to start creating shifts/work for this project and assigning them to your drivers.