What are Push notifications?
Push notifications are pop up alerts that appear on your mobile device that, when tapped, will open an app.

You do not have to be in the app or even have the app open to receive them. They often include more actionable, targeted, and relevant content - for example, a link directly to the Available Jobs screen. Push notifications don't require a cell phone number and thus don't count against any text plan limits or cause you to incur any charges.
Enabling Push notifications for iPhone
When you first install Trux Drive, you are prompted to give the app permission to send you Push notifications. If you previously denied this permission, you can re-enable it by following these simple steps in your iPhone Settings.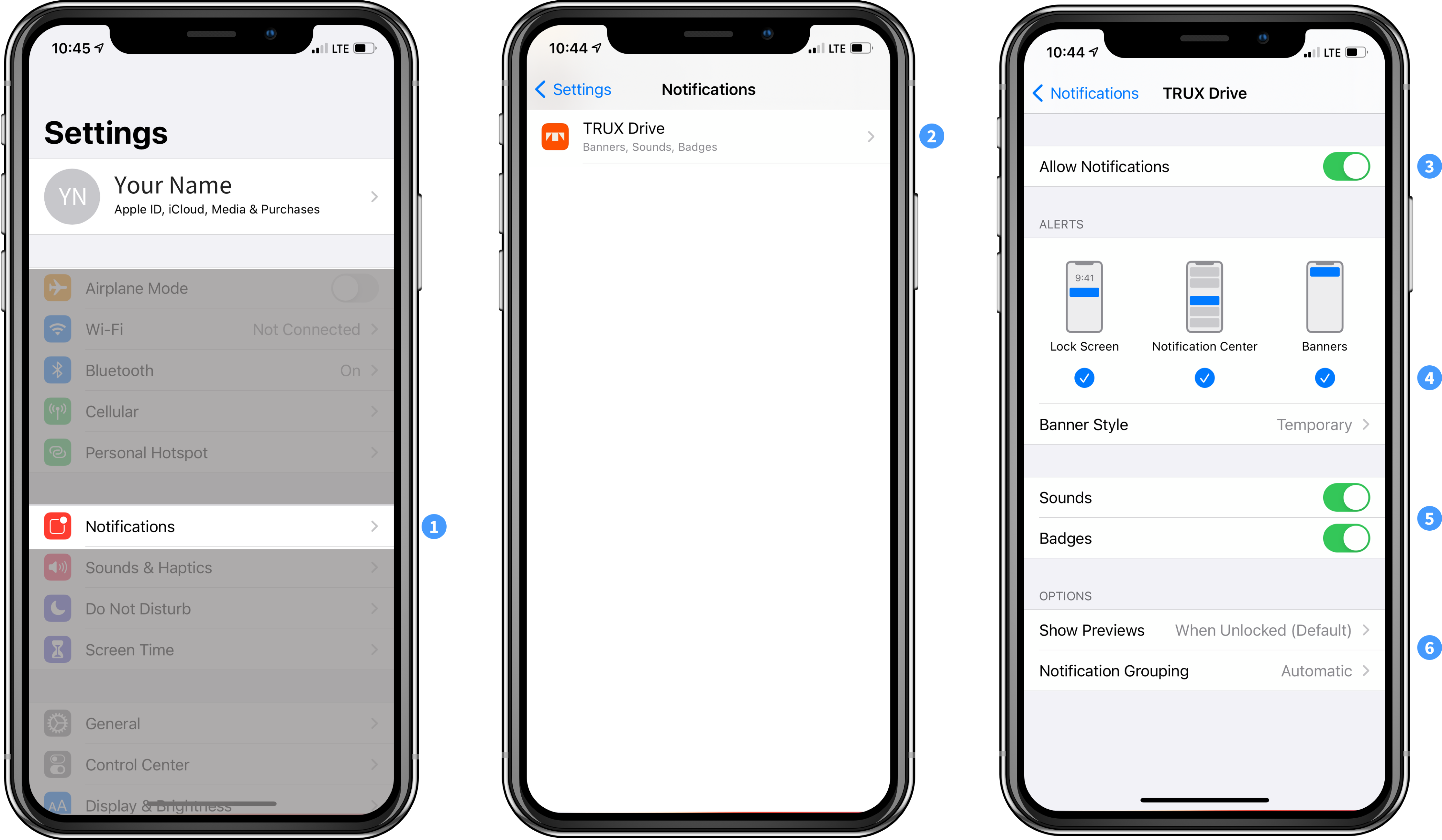 Tap the Settings app on your device. Tap Notifications.
Scroll to and tap the TRUX Drive app.
Tap Allow Notifications to turn on Push notifications for TRUX Drive (make sure the button is green as shown above).
Select one or more types of ALERTS you wish to receive - Lock Screen, Notification Center, and/or Banners.
- Lock Screen alerts are banners that appear on your "lock screen" in a scrollable list; swipe one, and you'll instantly be taken to Trux Drive. These type of alerts allow you to view the message without having to unlock your device.
- Notification Center alerts are alerts that only appear in a summary list of notifications that you can access in the Notification Center at any time by flicking down from the top of the display.

- Banners are a slim notification pane that slides into view along the top of your device screen before disappearing a few seconds later. You can ignore a banner if you wish, pull down the banner to reveal the full Notification Center (see above), or tap it to jump to Trux Drive. Unlike pop up alerts, banners won't interrupt whatever you're doing on your device.

Turn Sounds and Badges on or off. This will control whether you will hear a sound when a push notification is received and whether a little red dot with a number (signifying the number of waiting alerts) will appear in the top corner of the Trux Drive app icon on your device home screen.
Finally, choose whether or not you want to show a message preview (if available) or not with each notification and how you would like your messages grouped.
- Automatic: The notifications from the app are grouped according to organizing criteria within the app, such as by topic or thread.
- By App: All the notifications from the app are grouped together.
- Off: Turn off grouping. Messages should be shown as received.
Pro Tip: You can use Apple's Do Not Disturb setting to silence all notifications (not just from Trux) that you get while your device is locked based on a schedule/time of day. Learn how in this article from Apple.