This article describes how Truck Drivers view their scheduled jobs. Watch this video to see how.
From the Home screen, tap Schedule.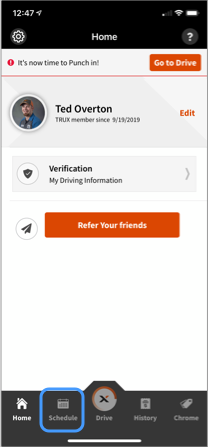 Your Scheduled Job(s) will appear on the Schedule screen.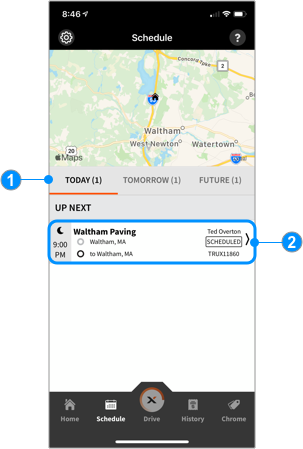 Tap TODAY, TOMORROW, or FUTURE to view the SCHEDULED jobs for that day. The number of shifts/assignments you have on a given day will be indicated by the number in the parentheses ( ).
The name, start time, start and end locations are shown.
Tap a job to view the job details.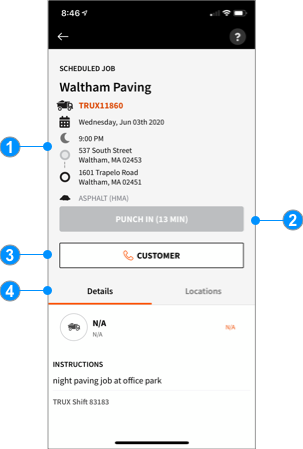 The details of your SCHEDULED JOB, including the start date and time, the full start and end locations, and the product.
You can PUNCH IN to your job up to 5 minutes before it is scheduled to begin.
Tap CUSTOMER to call the customer who posted the job. NOTE: If this button is labeled SITE, tapping it will call the site contact who will be receiving your delivery.
Tap the Details tab to view the truck type and detailed job instructions.
Tap the Locations tab.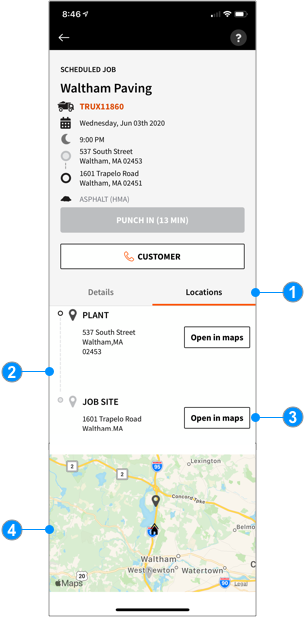 Tap the Locations tab to view the job location details. The Start and End locations are listed.
The specific start and end location addresses are shown.
Tap Open in maps to open your default mapping app to navigate to the start or end locations.
Icons for the job Start Location ( ), the End Location ( ) for your upcoming job will appear on the map. You will also see an icon for your Company location ( ) if in view.