NOTE: If you haven't downloaded TRUX Drive and created an account yet, read this article first.
This article provides Truck Drivers with an overview and general layout of TRUX Drive. You can also watch this video for an overview.
Home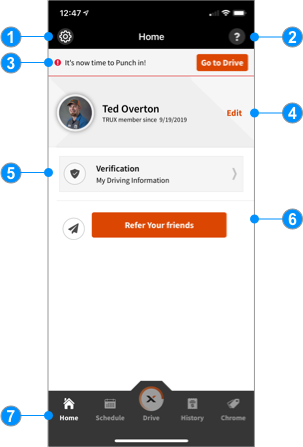 Settings - View your profile and log out of Drive. You can access Settings from every screen.
Help - Access help articles and FAQs, contact TRUX Support via phone or submit a ticket, review Terms & Conditions. You can access Settings from every screen.
Banner Notifications - Certain notifications may appear here, for example, alerting you that it's time to punch into a job or additional screen or product training and information.
Profile - View account profile, upload/update your profile picture
Verification - View and update your CDL
Refer Your Friends - Send fellow haulers a text or an email with a link to download TRUX Drive!
Navigation Menu - Navigate throughout Drive from this menu at the bottom of every screen.
Schedule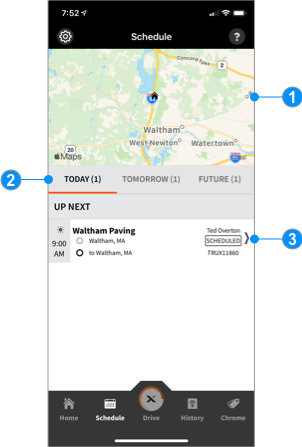 Map - The location of your accepted/claimed jobs will appear on the map with a pin ( ). Your company location (if in view) will appear on the map with a home icon ( ).
Date Selector - Tap on a day to view available jobs for that day.
Scheduled Job(s) - All of your scheduled jobs appear here along with the start time and location(s). Tap on a job to view the job details.
Drive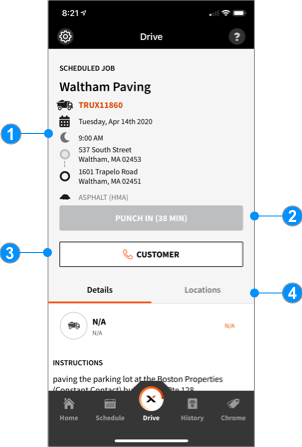 Scheduled Job - information abut your SCHEDULED JOB will appear here, including the start time, the start and end locations (if provided), and the material to be hauled.
PUNCH IN - you will be able to punch in to your job 5 min before the job is scheduled to start. This button will indicate how much time remains before the start and will turn orange when you can punch in.
Tap CUSTOMER to call the customer who posted the job you are hauling. NOTE: If this button is labeled SITE, tapping it will call the site contact who is receiving your delivery.
Details and Location - view detailed instructions about the job and view the start and end locations on the map.
History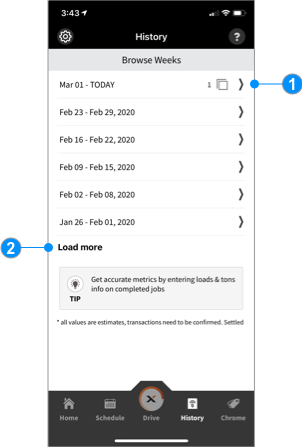 Completed Jobs - View all completed jobs by week. Tap on a week to view all jobs completed in that week.
Load more - tap to load more weeks
Chrome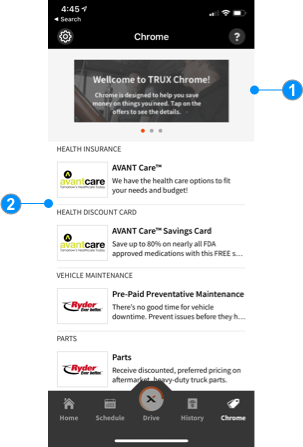 Chrome Announcements - Certain Chrome announcements (e.g., for new or special deals) may appear in this carousel.
Chrome Deals - Scroll to find deals on insurance, parts, and services. Tap on a deal to view the details.
Help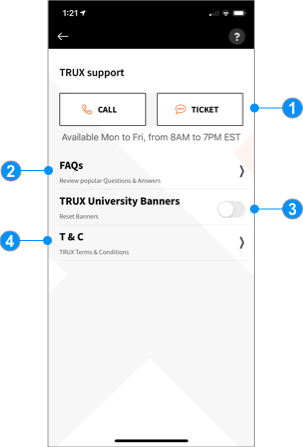 Contact TRUX Support - Tap CALL or TICKET to contact TRUX Support with an issue or question
FAQs - Access help and how-to articles, videos, etc.
TRUX University Banners - toggle on or off in-app training guides on each screen. Toggling on the banners will allow you to access in-app guides and after you have already viewed them.
T & C - Tap to review our Terms & Conditions.
Settings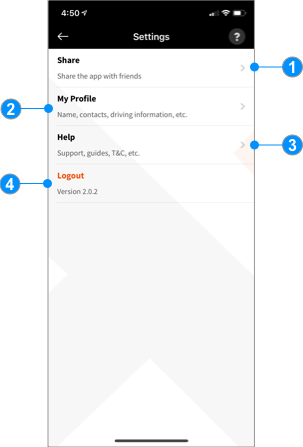 Share - Send fellow haulers a text or an email with a link to download TRUX Drive!
My Profile - View account profile, upload/update your profile picture
Help - Access help and how-to articles, videos, etc.
Logout - logout of TRUX Drive