Release Date: 08/20/2020
New Features and Enhancements
In this release are a set of features and enhancements that further our progress toward rounding out the complete Vulcan Powered by TRUX experience.
Digital Dispatch
Delivery confirmation - With this release, we are introducing some visual improvements to allow for tracking drivers and loads that are In Progress (existing Delivery Tracker functionality) as well as verify the location of Delivered loads (new functionality in this release). To do this, we created two separate screens on the Order Delivery Tracker.

On both screens, you can toggle between viewing the driver card (load card on the DELIVERED screen) and location on the map and viewing the driver card in the list of haulers below the map.
Tap the circle icon on the map to reveal the driver/load card. Tap View Driver Card (View Load Card on the DELIVERED screen) for a link to go directly to the driver's card in the list below the map. Tap the map icon on the driver card to return to the driver's location on the map.
As loads are completed they are moved from the IN PROGRESS screen and added to the top of a new DELIVERED loads screen. All load cards on the DELIVERED screen are displayed in descending order by load completion time, and all delivered loads appear on the map to enable job site contacts to visually verify that loads were completed where expected.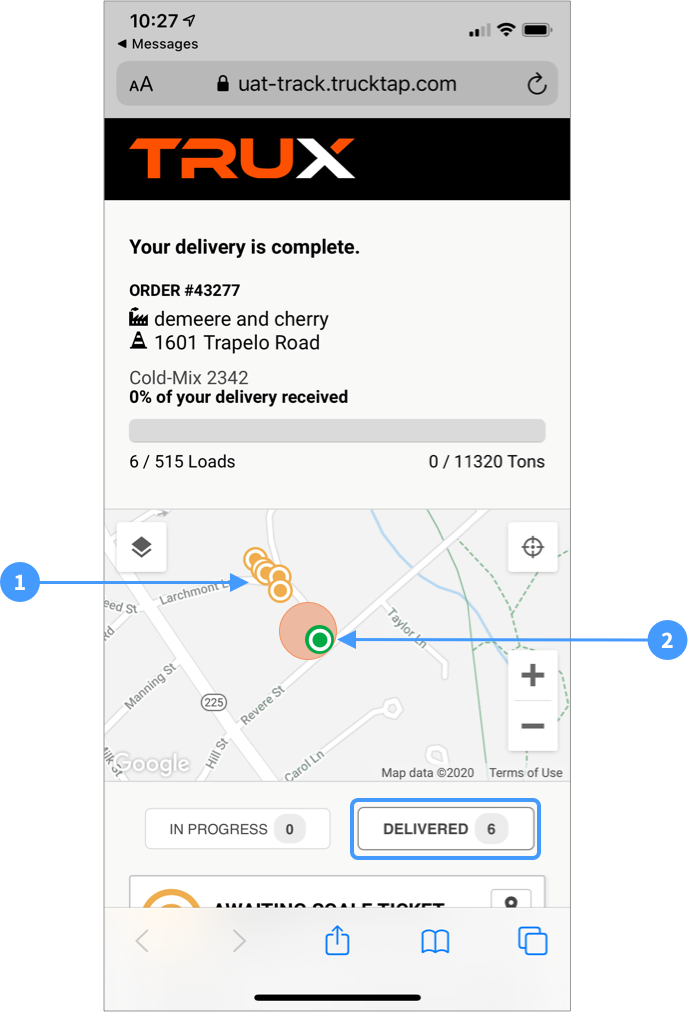 Out of Zone deliveries
In Zone delivery
Below the map, you will also see a list of all load cards with the same color-coded status icon (round circle) as on the map indicating where the load was delivered relative to the job site's drop zone.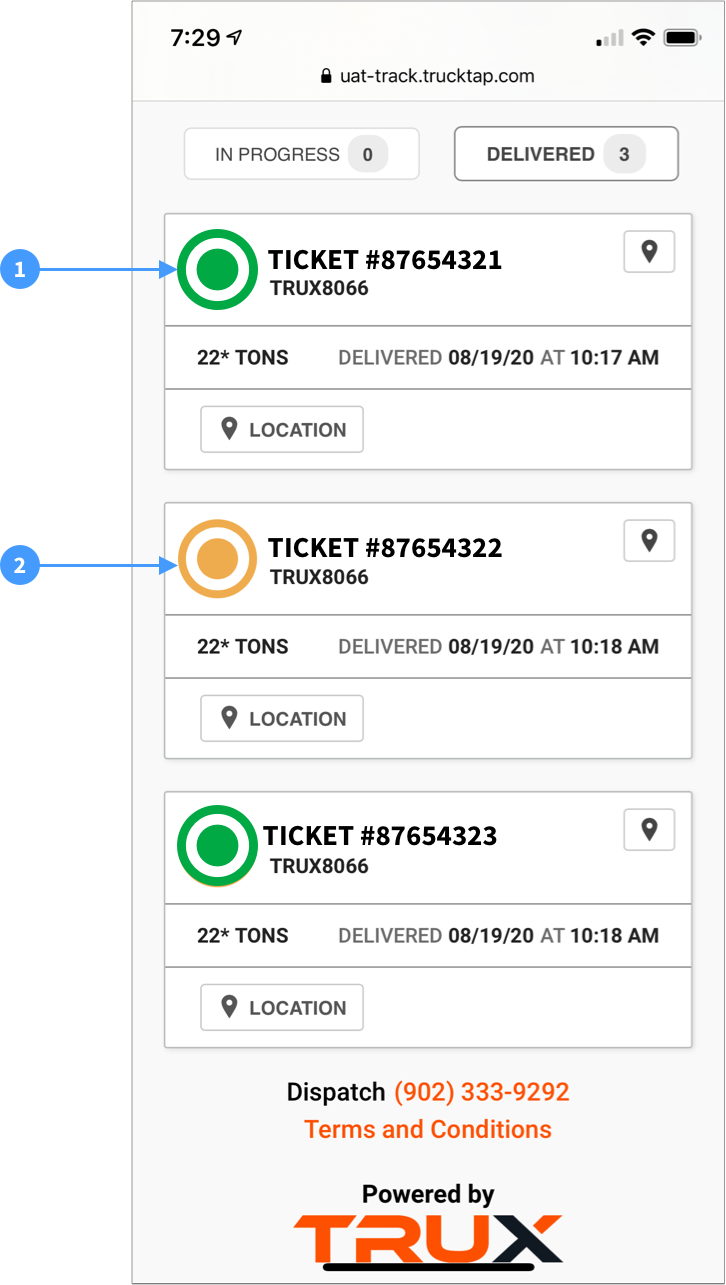 Green = delivery completed In Zone (within the drop zone)
Orange = delivery completed Out of Zone (outside of the drop zone)
Expanded LOCATION details view - Job site contacts viewing the Delivery Tracker can now see the location of each DELIVERED load to determine if the load was delivered where expected.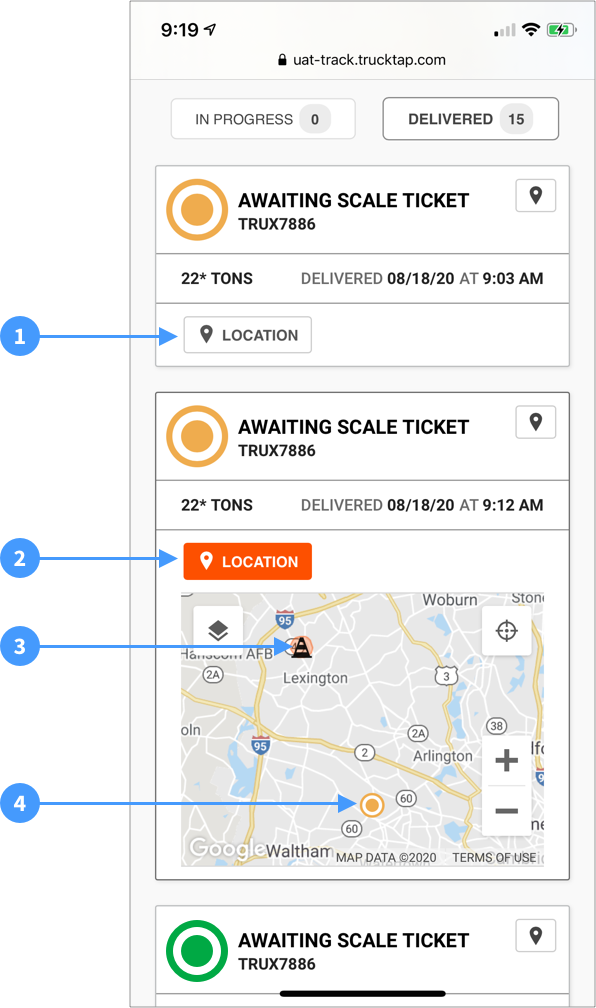 Tap the LOCATION button on an individual load card to expand and view the delivery location of a load. Tap the LOCATION button again to collapse the detailed location map view.
Expanded delivery location details.
Job site and geofence/drop zone.
Load delivered Out of Zone.
Delivery Tracker link added to Daily Dispatch Summary email - We've added a direct link to the Delivery Tracker in the Daily Dispatch Summary email that is sent at the completion of each order. Clicking the link opens the Delivery Tracker on the DELIVERED tab.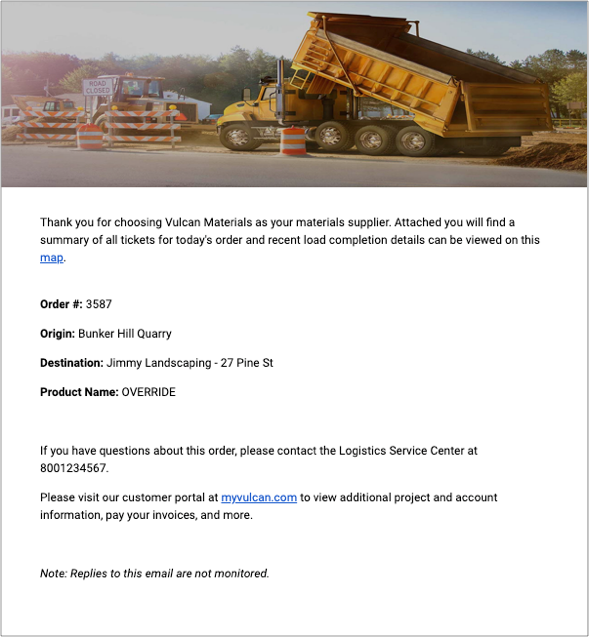 Additionally, the CSV file that accompanies the above email now includes:
A column for Delivery Confirmation Status (whether the delivery was In Zone, Out of Zone, or Unconfirmed)
A hyperlink to each delivered load. Clicking an individual link opens the Delivery Tracker to the appropriate load.