Release Date: 07/23/2020
New Features and Enhancements
The following new features have been released.
Digital Dispatch, Core
New TRACK screen map filters - Two new filters have been added to all map views (both REAL-TIME and HISTORY maps for dispatch assignments and shifts):

Geofence - Show/hide plant and job site/destination geofences on the map. Selected by default.
Points of Interest - Show/hide points of interest (as defined by Google) on the map. Selected by default.
Click the map filter to select (show) or deselect (hide) the feature from the map.
Digital Dispatch
More Delivery Tracker visual enhancements - We continue to make some tweaks to the layout of the Delivery Tracker, this time focused on the information contained within the header. In addition to making it cleaner, these changes are making room for future functionality, such as the ability to view the location of each delivery and the ability to view the load tickets associated with each delivery.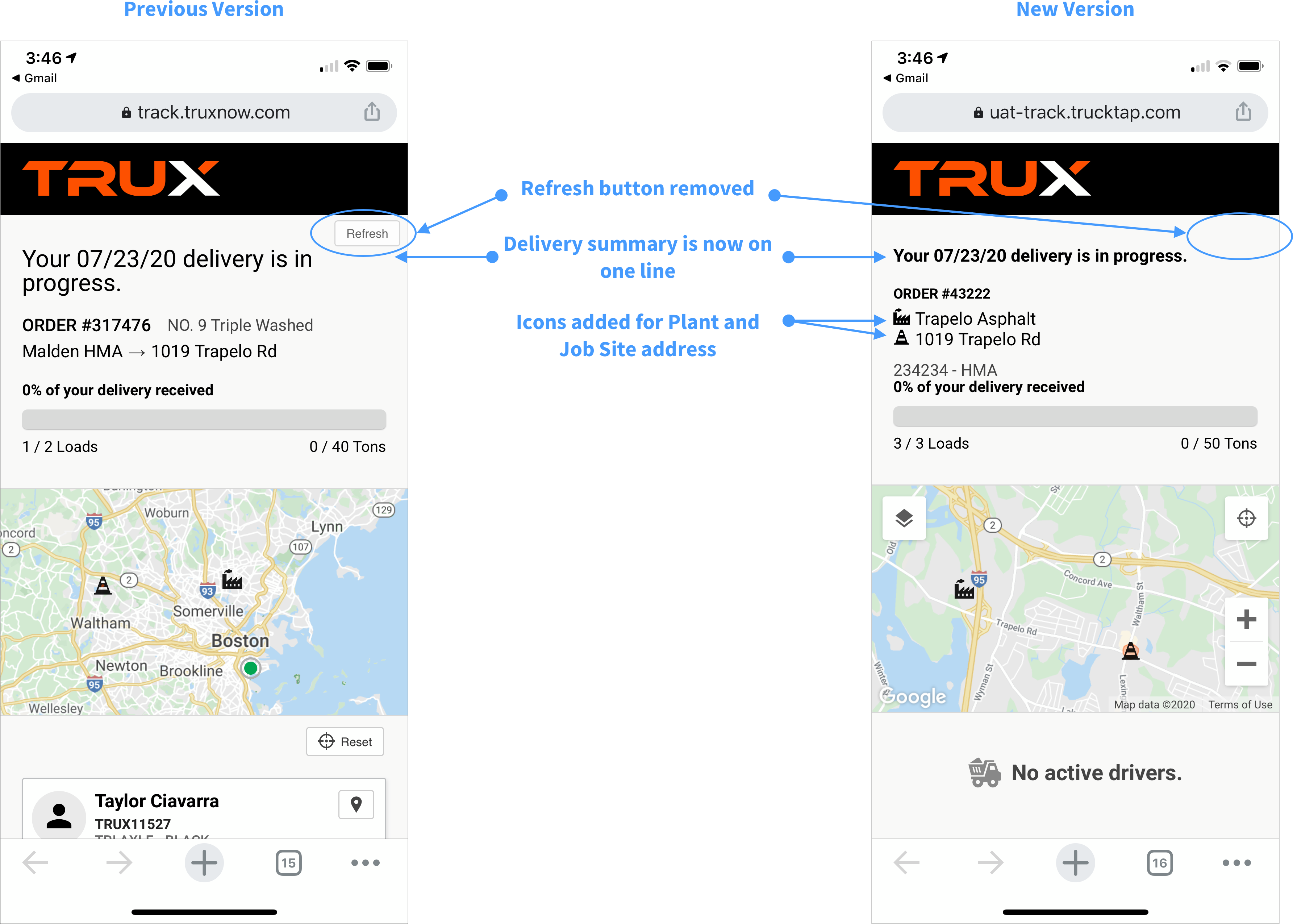 NOTE: To refresh the Delivery Tracker, one only needs to tap the Refresh button on their mobile browser window or swipe down on the screen depending on the mobile browser you are using
We've added the ability to toggle between map view and satellite view on the map, and we've added a recenter button to the map.
To change from map view to satellite view and back again, tap the map view icon (

)in the upper left of the map. To recenter the map after dragging it, tap the recenter icon (

) in the upper right of the map.
Resend a Daily Dispatch Summary email - Dispatchers can resend the scale ticket summary email (Daily Dispatch Summary) in cases where the site contact did not receive the original that was sent at the completion of the order. We've also improved the way you view and resend a Delivery Tracker or Delivery Tracker message.