Release Date: 03/05/2020
New Features and Enhancements
Digital Dispatch, Core, and Fleet Management
Hauler tracking enhancements - We continue to make enhancements to the tracking functionality within TRUX.

On the TRACK screen, when viewing Shifts, we now display the TRUX ID for each driver on both the REAL-TIME and HISTORY maps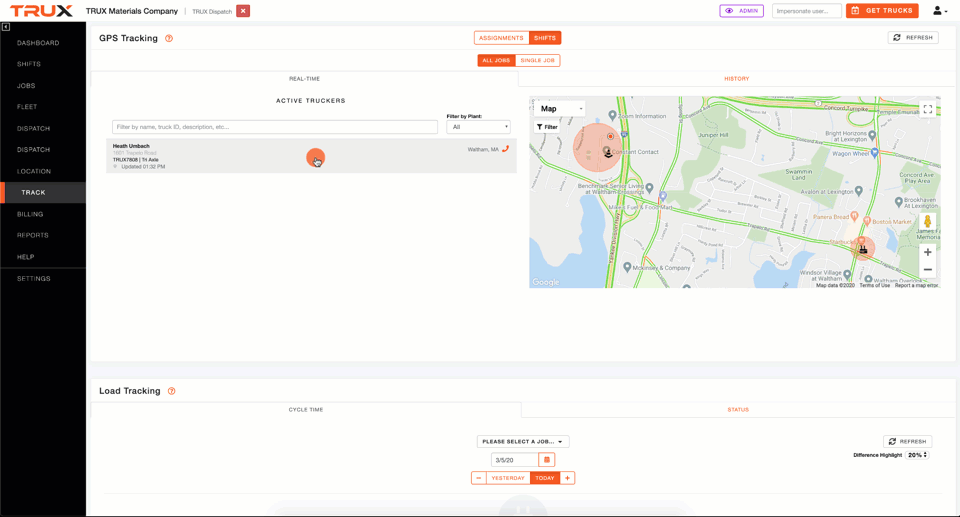 We've added coloration to the map slider that shows how fast a truck was moving through the timeline. More

blue

= faster progress, more

red

= slower progress. We've also added icons that show geofence and punch-in/out events. Hovering over an icon displays the time spent in each geofence location, the location name for the Plant/Job Site, and punch-in/out timestamps. A gray box will appear behind the icons corresponding to the time spent in that geofence location.

Drag and drop functionality for touch interface devices - Drag and drop functionality available in TRUX web-based interfaces now works on touch screen devices (iPad and other tablets). For example, dispatching haulers to dispatch assignments and claiming jobs in Fleet Management.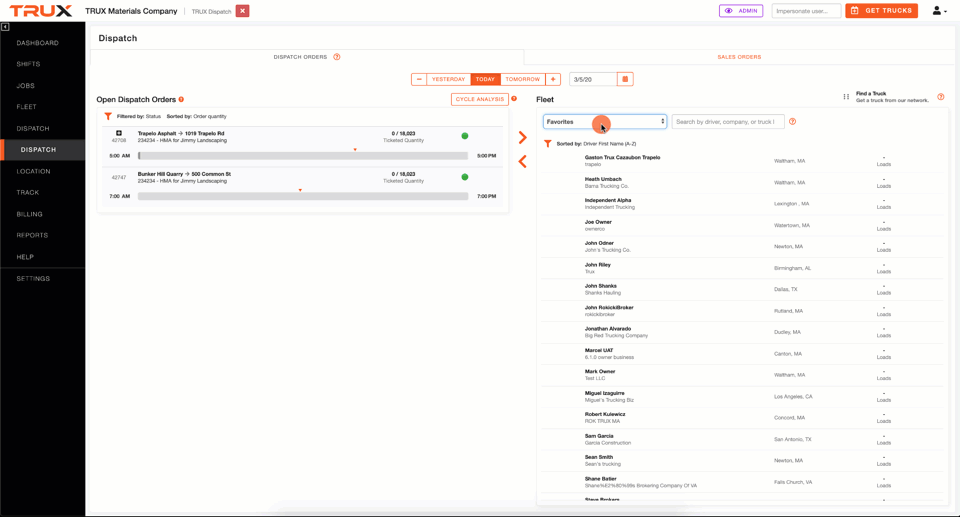 Set shift expiration time when editing a shift - You can now specify an expiration time when editing a shift. The expiration time must be set later than start time (max of 12 hours later).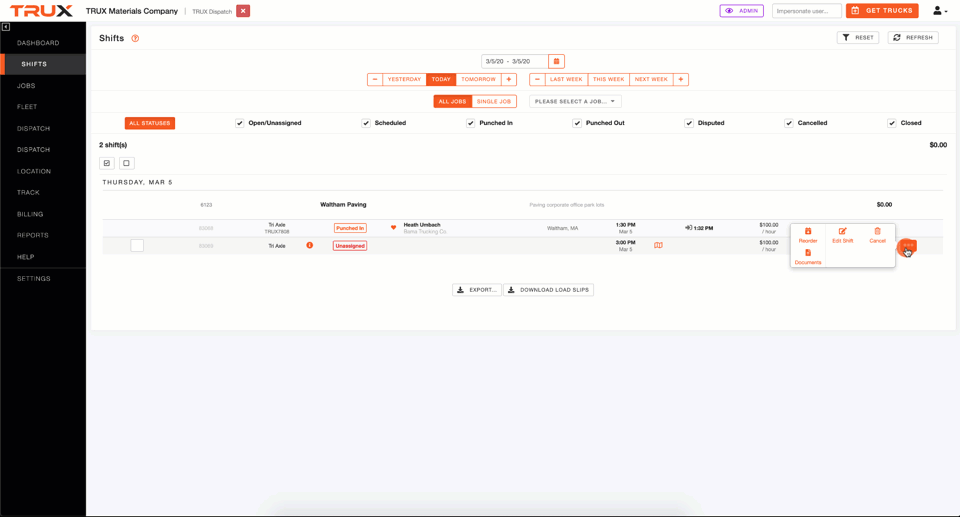 Digital Dispatch
Trucker route access from the DISPATCH screen - You can now view an active hauler's route history directly from the Active tab on the DISPATCH screen. Just hover over an active hauler to reveal a map icon. Click that icon to launch a map where you will see the entire route, the plant, and the job site for each assignment.
New hauler utilization icons - We now have separate, unique icons associated with hauler utilization. The new icon (a small clock face) will be yellow if a hauler is more than 100% utilized and red if a hauler is more than 130% utilized.
Hide expired or canceled assignments - Users can hide/filter for Open, Canceled, and/or Expired assignments on the Active tab of the DISPATCH screen.
LOCATION screen map view settings - For Location Operators, if you change the LOCATION map view from "Map" to "Satellite" (or the opposite) and navigate to other screens then return to the LOCATION screen, the map view settings are retained
Bug Fixes
"Searching" status not updating after dispatching using Find a Truck - In certain scenarios, when using Find a Truck - Overflow, the "Searching" status was not automatically updating to reflect the latest status for assignments that had been claimed by haulers/owners. In these cases, dispatchers had to reload the page (or leave the page and return) to see the updated status reflecting claimed assignments. For these scenarios, the list of assignments in the Open Dispatch Orders tab will now automatically update as haulers accept/claim them without needing to manually refresh the screen.