This article describes the following regarding TRUX payment terms (click a topic below to jump to that section):
TRUX Automated Billing and Timeline
The TRUX standardized invoicing process is as follows:
All work completed during the previous trucking week, Sun-Sat, should be reviewed by the customer. You can do this from the SHIFTS screen (Look at all shifts with a Status of Closed).
The Dispute window is open during the trucking week and closes once the invoice is issued. Any disputes outside of this window must be handled directly with TRUX support.
Customers will receive an invoice for work completed during the prior week (Sunday - Saturday) on Tuesday morning. Invoices are sent via email to the account owner on the Tuesday following the trucking week and include all activity on shifts worked during the trucking week (A .csv file is sent with the PDF invoice. To export a full report, navigate to the SHIFTS screen, set the desired date range, scroll to the bottom and click ).

Note

: The account owner defaults to the initial user of the account. Contact TRUX support to change the account owner.
Any disputes or issues completed in that prior week must, therefore, be logged and resolved by no later than Monday before the statement is generated.
Invoices are due 3 weeks after the trucking week is complete (17 days after the invoice is delivered).
Payments listed on those invoices will be charged to the provided payment method the third Friday following invoice receipt.
Outstanding unpaid balances will result in temporary account suspension until resolved. The hiring of trucks can resume upon payment of outstanding past due balances.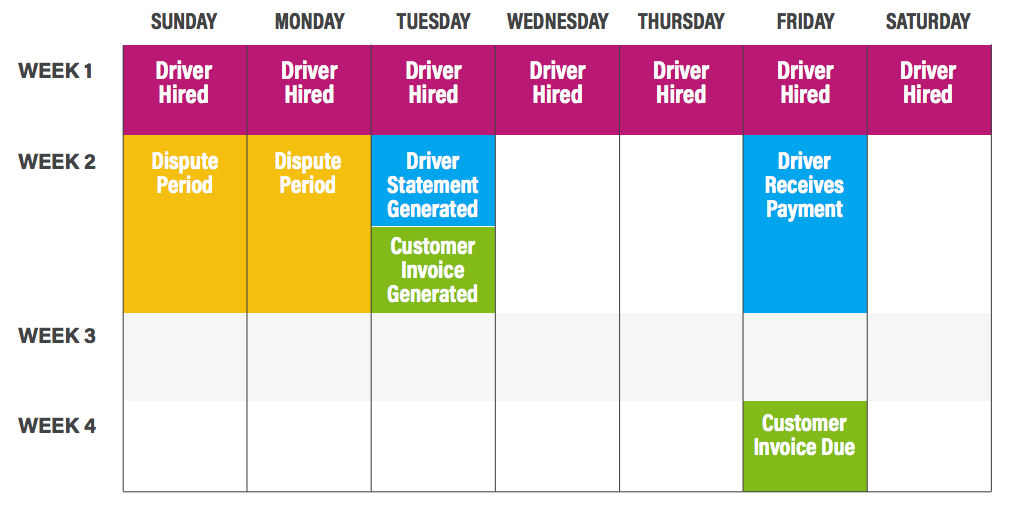 Customers using a credit card will be charged a 3% fee to cover processing fees incurred by TRUX. There is no fee for using bank transfer (ACH) as a payment method.
Security
TRUX uses Stripe (www.stripe.com) for the invoice and payment process. Credit card and bank account details are not stored or seen by TRUX. Stripe has been audited by a PCI-certified auditor and is certified to PCI Service Provider Level 1. This is the most stringent level of certification available in the payments industry. All card numbers stored with Stripe are encrypted on disk with AES-256. Decryption keys are stored on separate machines. None of Stripe's internal servers and daemons are able to obtain plaintext card numbers; instead, they can just request that cards be sent to a service provider on a static whitelist. Stripe's infrastructure for storing, decrypting, and transmitting card numbers runs in a separate hosting infrastructure and doesn't share any credentials with Stripe's primary services (API, website, etc.).
Setting up ACH Payment Method
Step 1: Go to the SETTINGS screen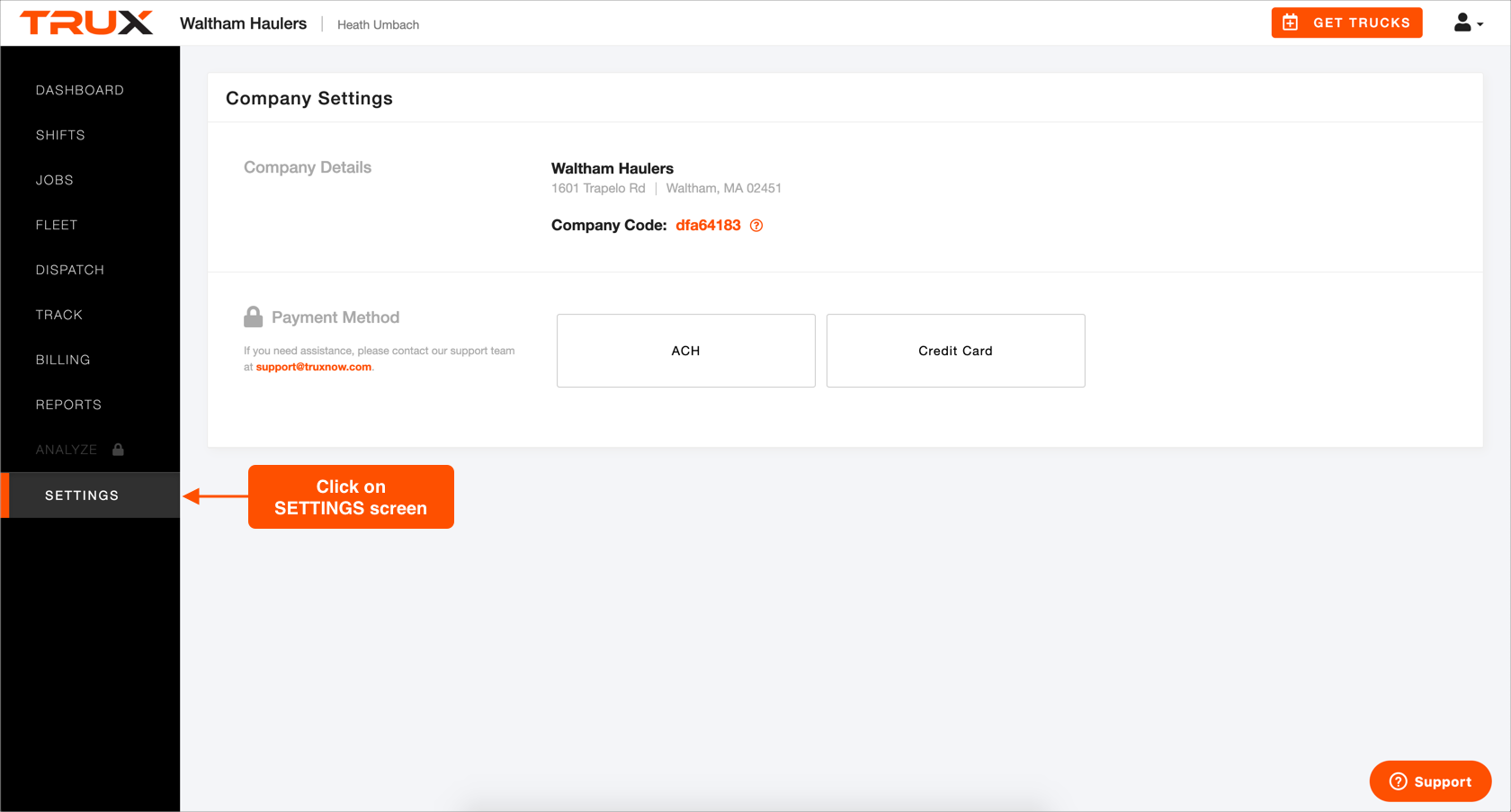 Step 2: Select the Payment Method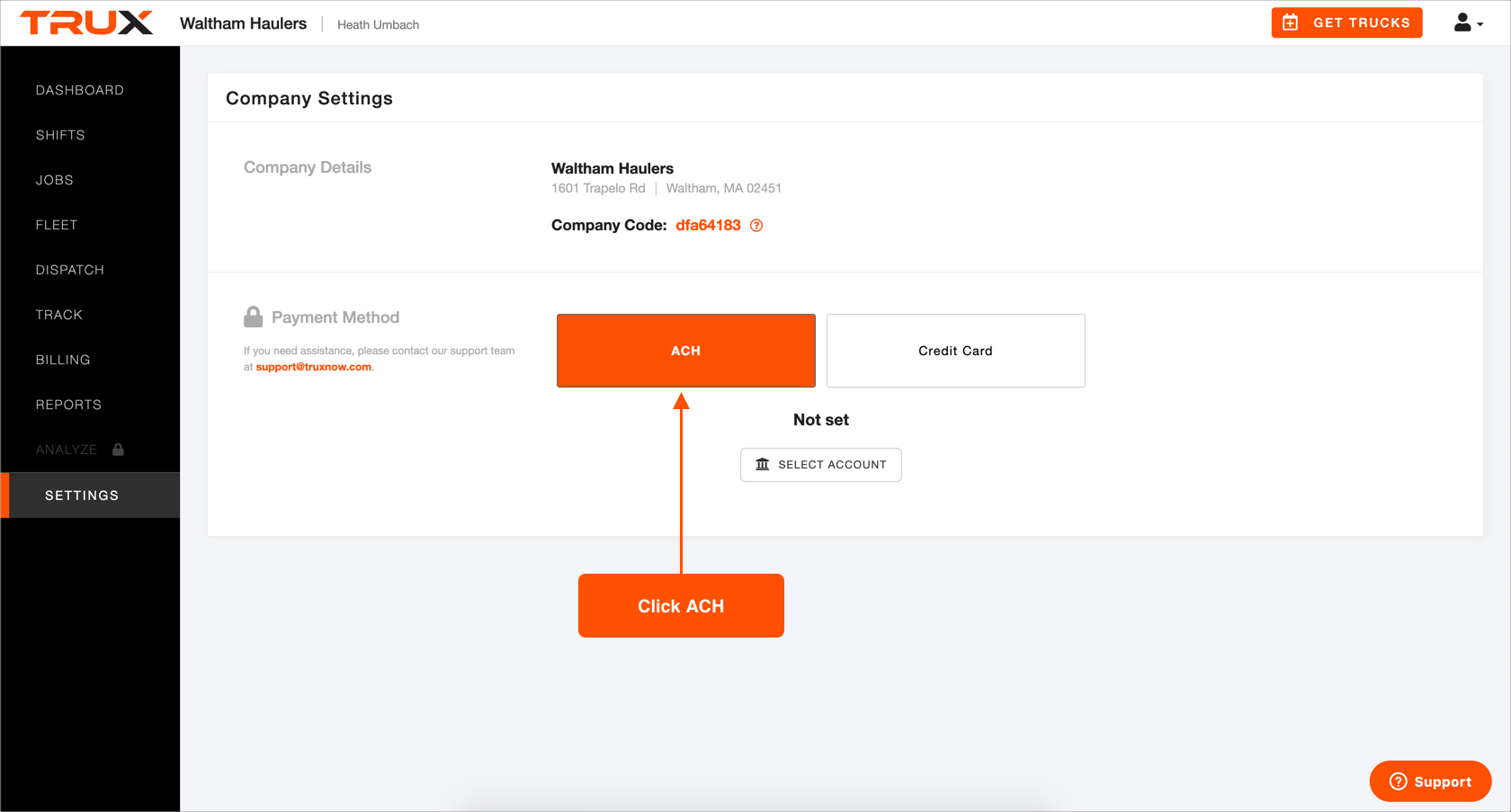 Step 3: Enter account details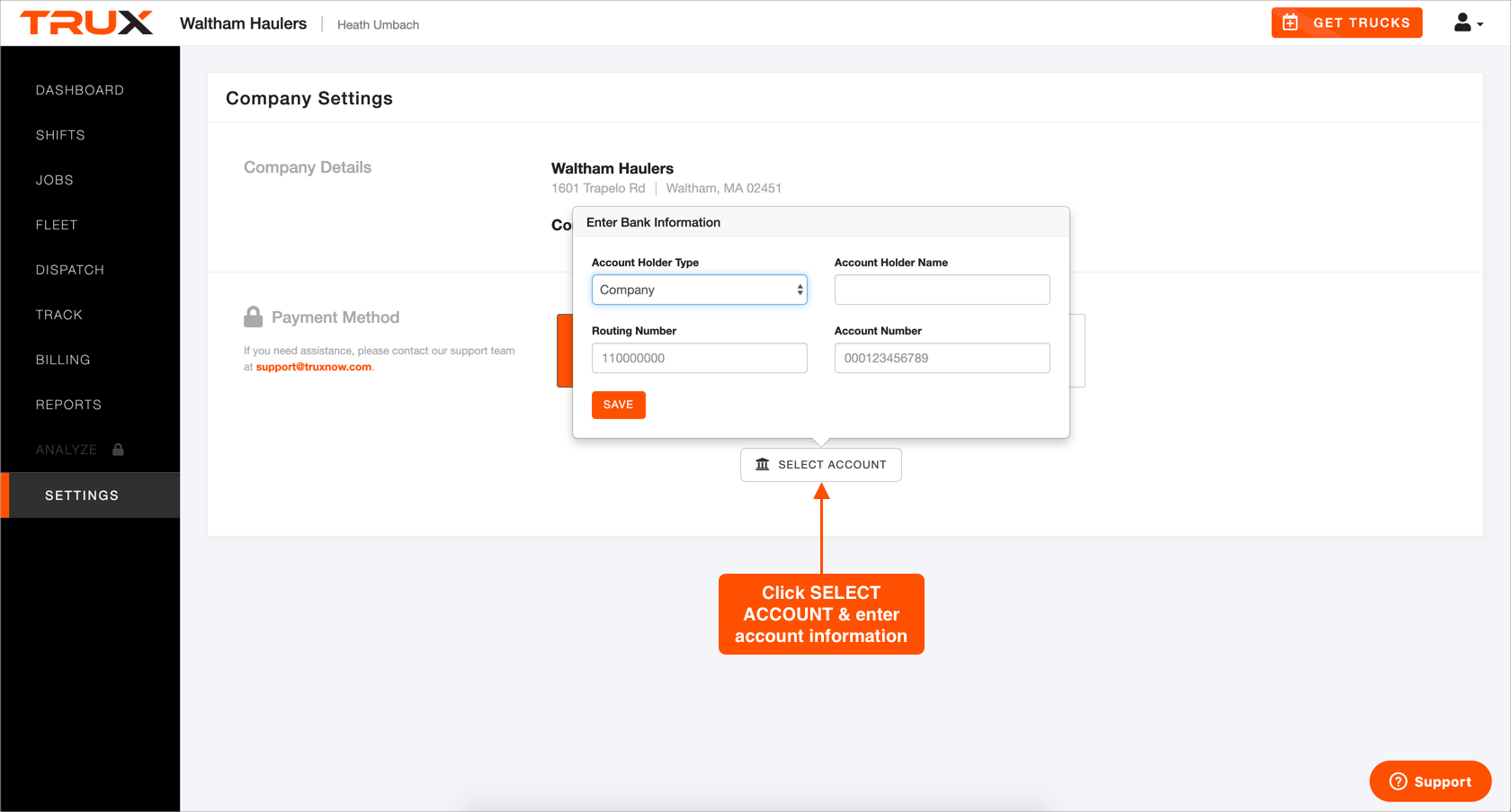 Step 4: Enter deposit amounts - verify account
TRUX will make two small deposits to the bank account you specify above. You can expect those to appear in your account within 24-48 hours. These deposits will include the description "Trux, Inc., AMTS:XX,XX" where "XX,XX" is the two amounts deposited.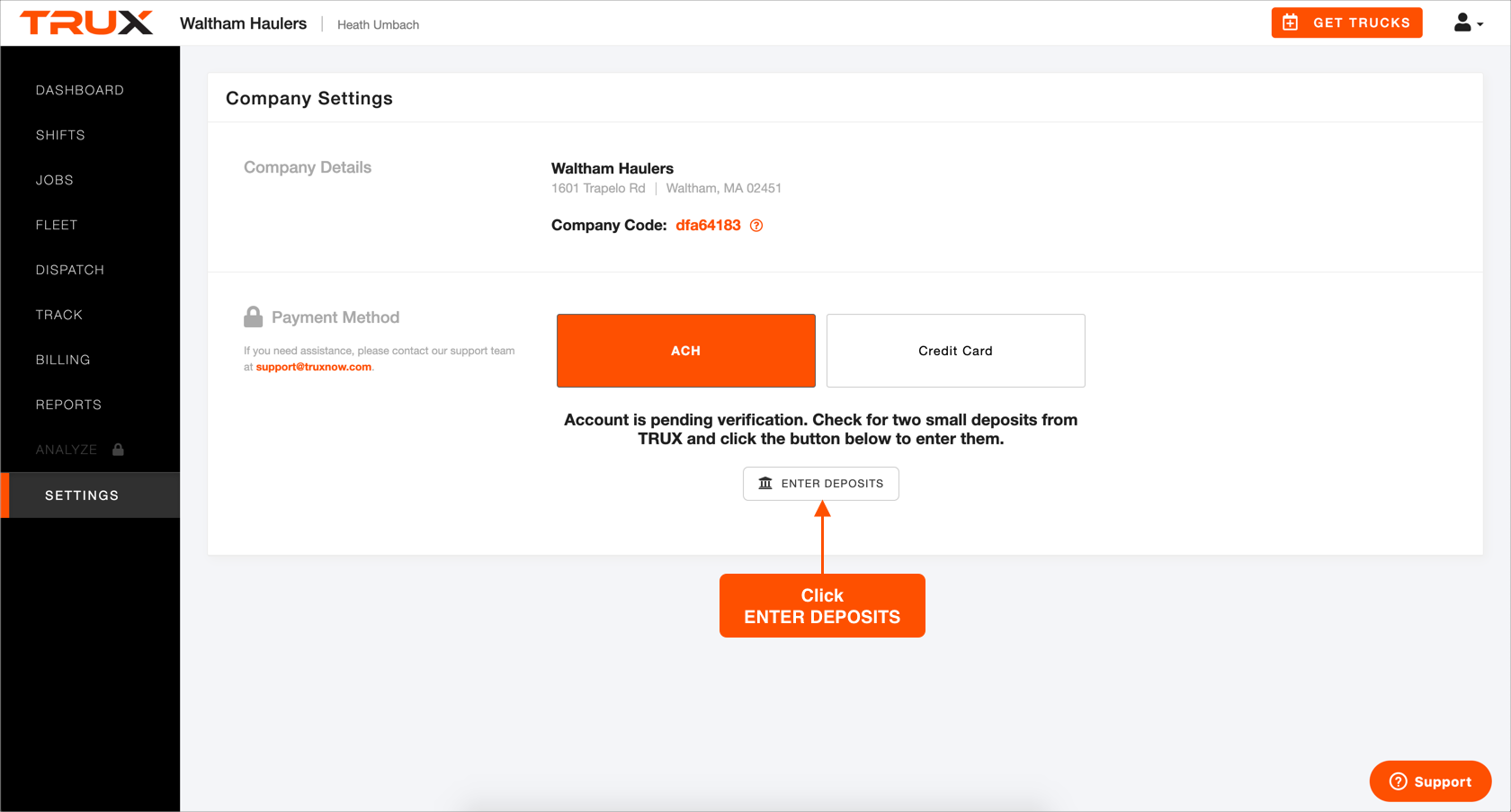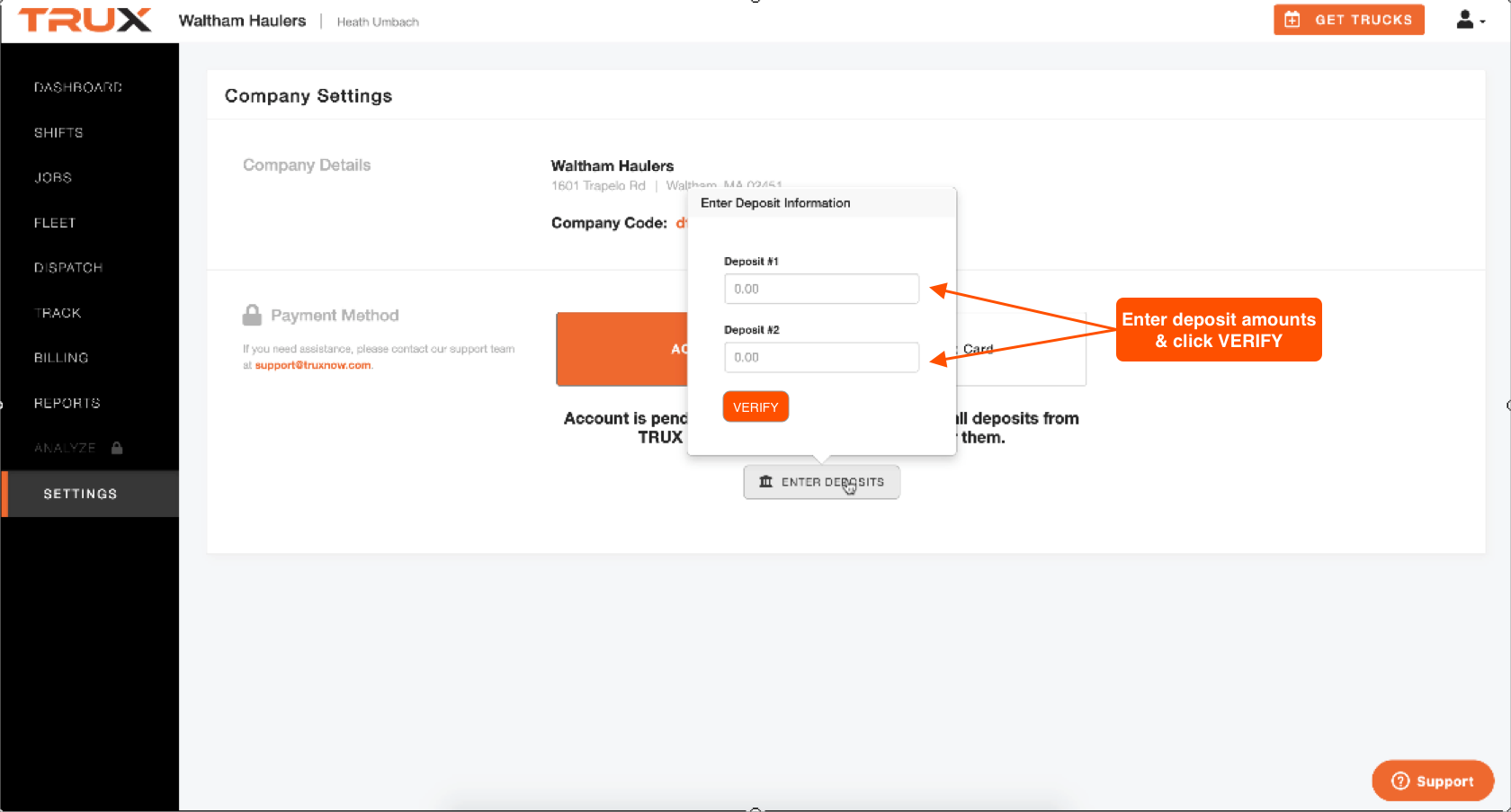 Step 5: Account verified
Your bank account is now verified. You may now GET TRUCKs!
Setting up Credit Card Payment Method
Customers using a credit card will be charged a 3% fee to cover processing fees incurred by TRUX. There is no fee for using bank transfer (ACH) as a payment method. TRUX accepts Visa, MasterCard, Discover, American Express and Diners credit cards. Follow the steps below to set up a credit card for your payment method.
Step 1: Go to the SETTINGS screen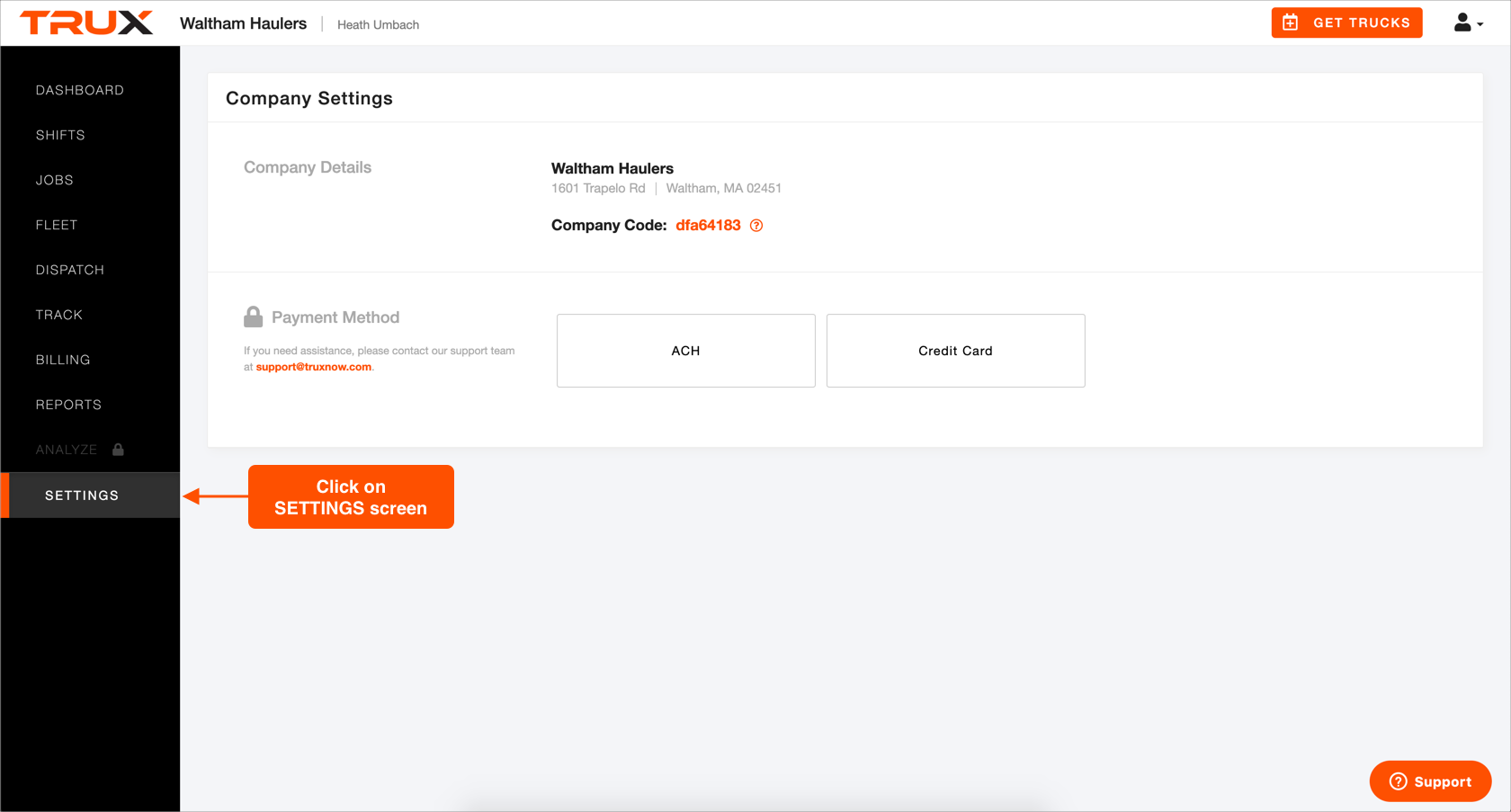 Step 2: Click Credit Card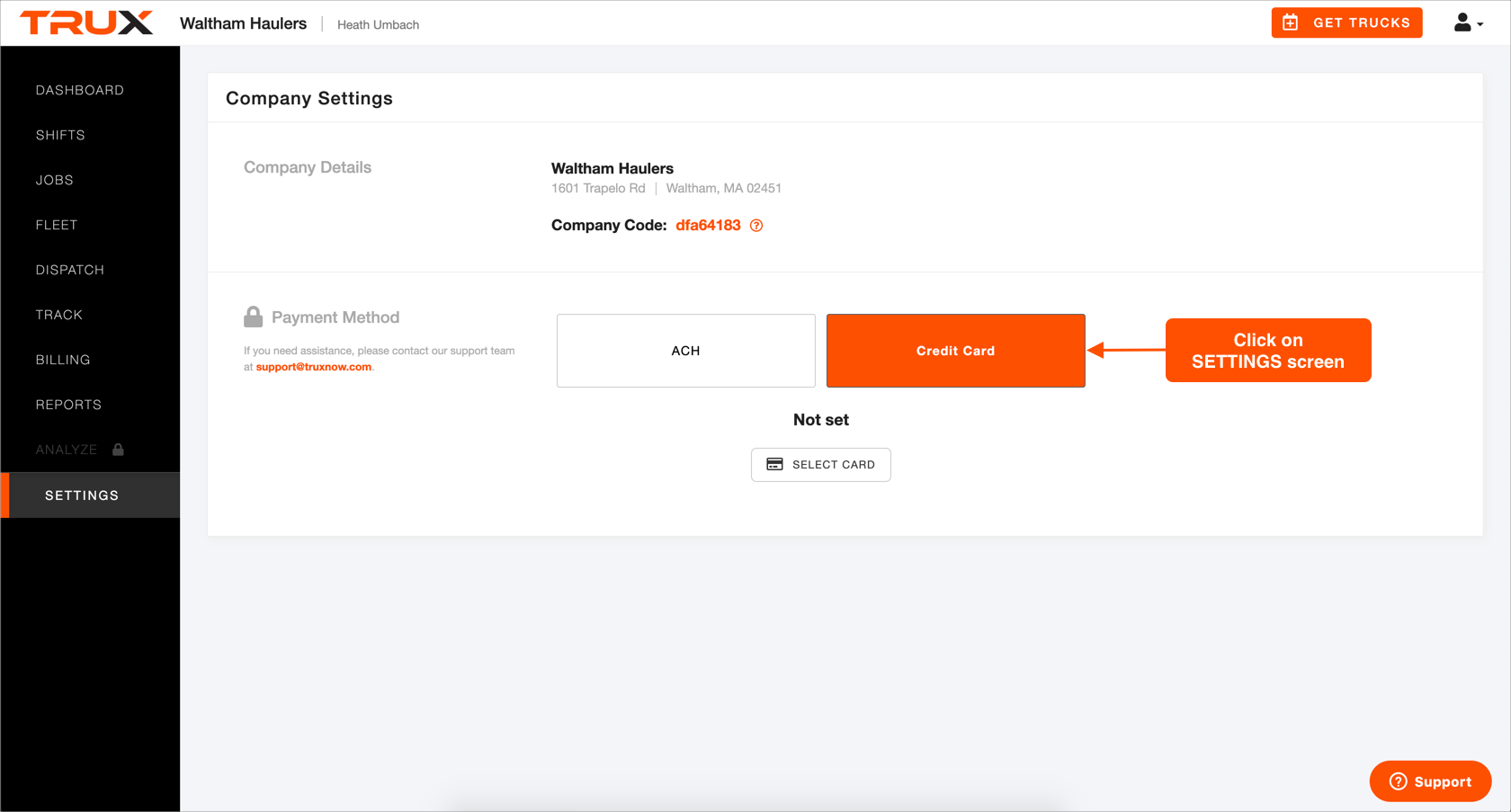 Step 3: Enter Card information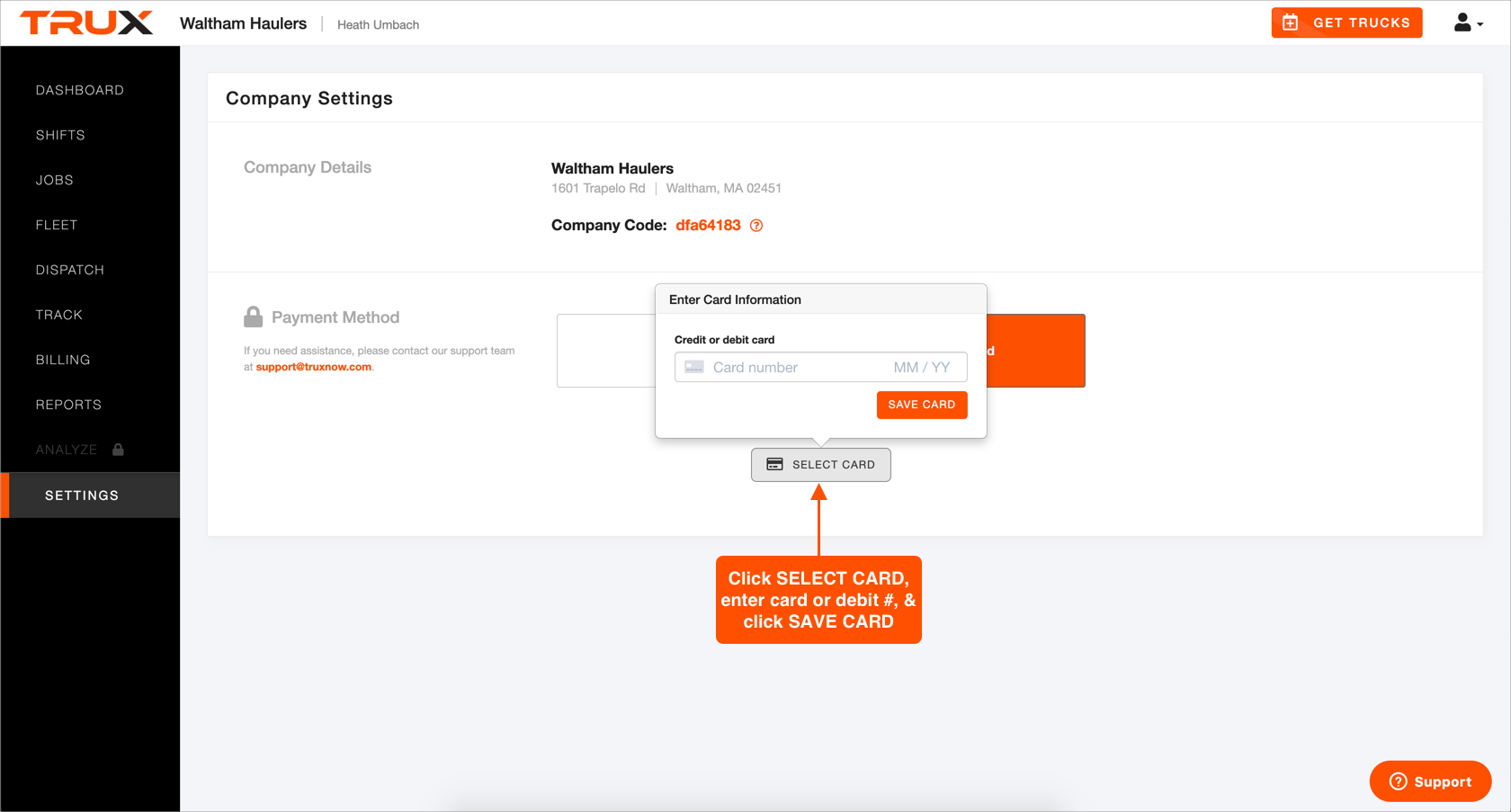 The Dispute Process
Any shifts or loads that do not meet the customer's satisfaction may be disputed. If you have a shift/load that needs to be disputed, follow the instructions in this article.
Frequently Asked Questions
Does TRUX extend credit terms?
We extend credit terms to certain credit-worthy customers on a limited basis, please provide DUNS number, copy of most recent period ended financial statements (Balance Sheet, Profit and Loss, Statement of Cash Flows).
Does TRUX handle prevailing wage jobs?
While Prevailing Wage is still the responsibility of the customer to gather from the trucking company, our product is expanding functionality in some markets (currently MA, RI, TX) to facilitate the transfer of certified payroll forms between the trucking company and the customer. Lack of prevailing wage documentation does not exempt the customer from payment on the invoice due date. If desired, customers can use the dispute process within the dispute period to put trucker pay on hold until Certified Payroll documents are received.
Why am I not receiving my invoice?
TRUX sends all invoices to the account owner, generally the first user of the customer's account. Please contact TRUX support to change the account owner.
I recognized an error on my invoice.
Please contact TRUX support for any errors recognized after an invoice has been issued.
Contact TRUX Support at support@truxnow.com or (800) 485-1304 with any questions!