Release Date: 04/01/2021
Delivery Tracker Enhancements
We've added several updates and enhancements to the IN PROGRESS and DELIVERED screens in the Delivery Tracker.
IN PROGRESS: Display when haulers are ON SITE
We now indicate when a hauler is ON SITE based on their having crossed into the job site geofence.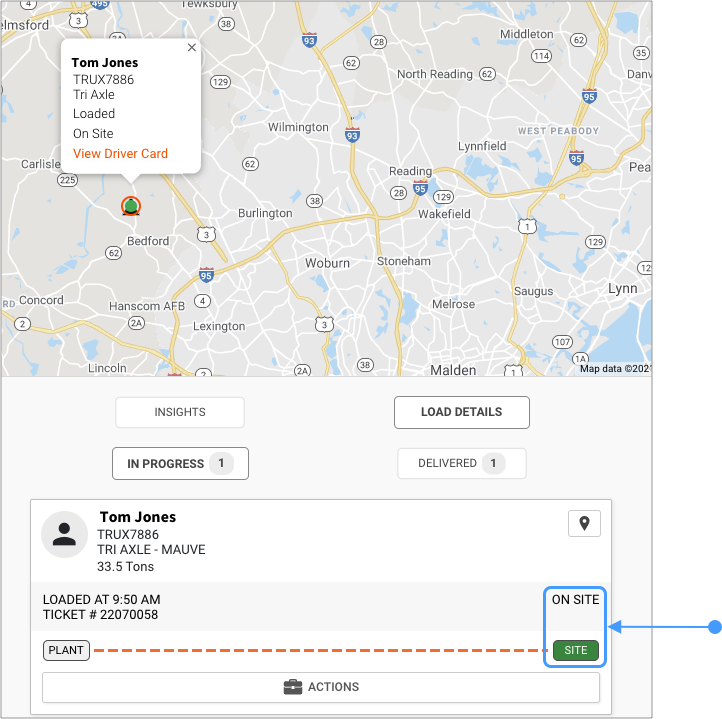 Haulers whose time ON SITE exceeds the established destination turnaround time will be highlighted in RED.
IN PROGRESS: Heads Up indicator
We now display a "heads up" indicator that acts as a useful shortcut to allow customers to jump to loads from nearby inbound haulers.
This tappable indicator displays the number of haulers who are INBOUND and not within the job site geofence. When it is estimated the hauler is within 10 minutes of arrival, the ETA is presented in Red font.
The heads up indicator will appear:
when the Delivery Tracker page is at least partially viewing the In Progress hauler cards

when those nearby, incoming hauler cards are also below the bottom of the screen
DELIVERED: Arrived and Delivered time and date.
We are now displaying the time and date that each load ARRIVED and the time and date it was DELIVERED (load complete).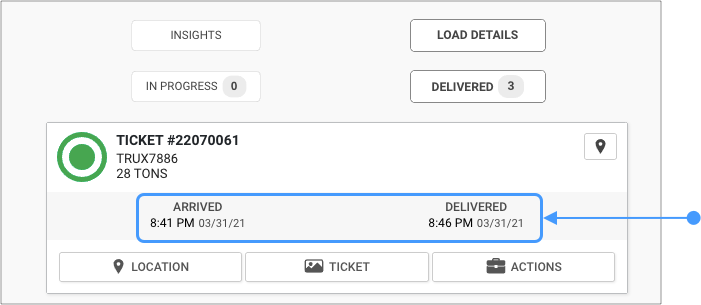 Highlight Dispatch Orders with missing Contact email addresses
The existing icon will adjust to display on Dispatch Orders with no valid email address for any of the selected contacts.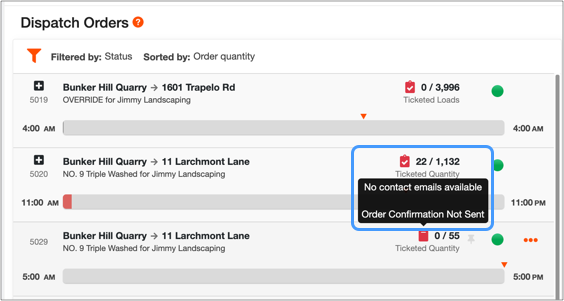 Dispatchers can add an email address on Order Confirmation preview. Clicking on the Contact will display the Contact's data entry form, allowing you to add the email address to the Order Confirmation and to the Contact's record going forward.

Default hauler reminder text
In an effort to improve hauler punch-out timing/behavior, we've added default text into the Instructions section of the Dispatch Order edit screen and Job Details screen in TRUX Drive. The following text will appear in this field. NOTE: Dispatchers can overwrite or add to the text.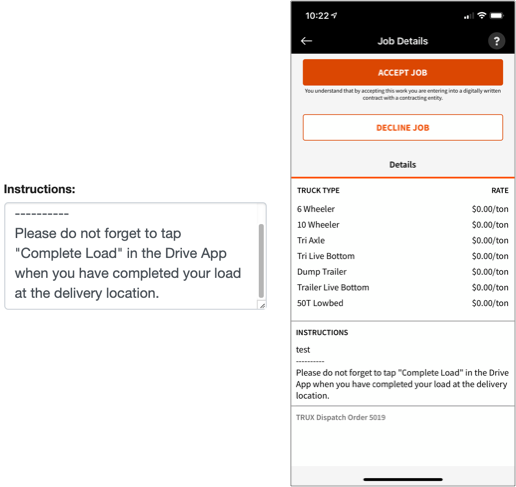 Data elements added to the Daily Dispatch Summary
Load Arrival Time and Gross Weight Limit have been added to the Daily Dispatch Summary .csv file for each delivered load.


Date Selection in TRUX Mobile Web
We've improved date selection on the SCHEDULE screen when accessing TRUX on your mobile device's browser. Previously, to select Today's date, you would have to tap the calendar then tap today's date, then tap APPLY (3 steps).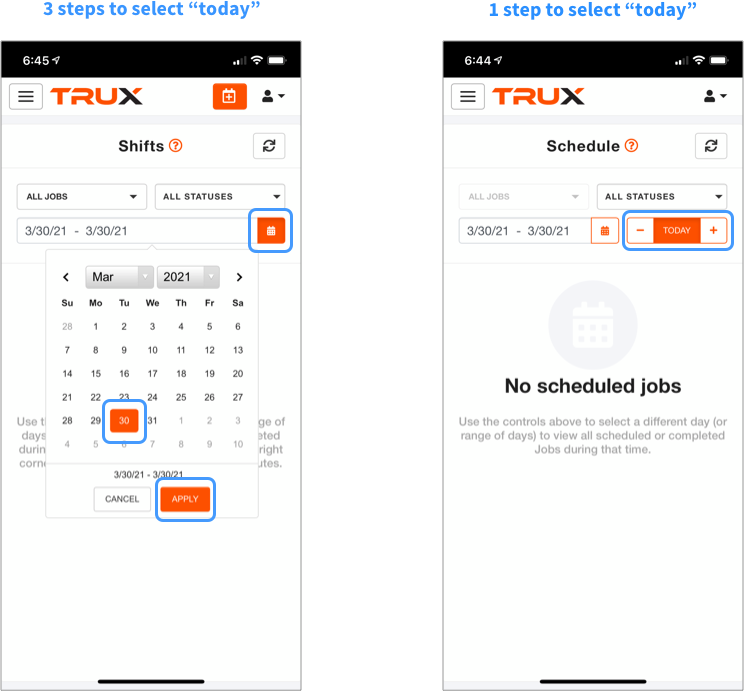 Increase Brokered Hauler assignment window
Brokers use TRUX to find and assign work to their own, employed haulers as well as to their brokered (3rd party) haulers on the Jobs screen. When brokers assign work to brokered haulers, those haulers will have up to five hours to accept the assignment. If the brokered hauler does not accept (or rejects) the assignment within the 5-hour window, the assignment is returned to the broker as Requested. The broker can then request another brokered hauler or assign to one of their own, internal haulers.