Release Date: 03/18/2021
Edit Scheduled Loads on Assignments
Dispatchers can now adjust the number of loads assigned to a hauler right up until the assignment is completed. To edit the loads on a Scheduled or In-Progress assignment, hover over the assignment, click the shortcut menu, and click Edit.

The number of loads shown in the Edit Assignment window represents the number of scheduled loads.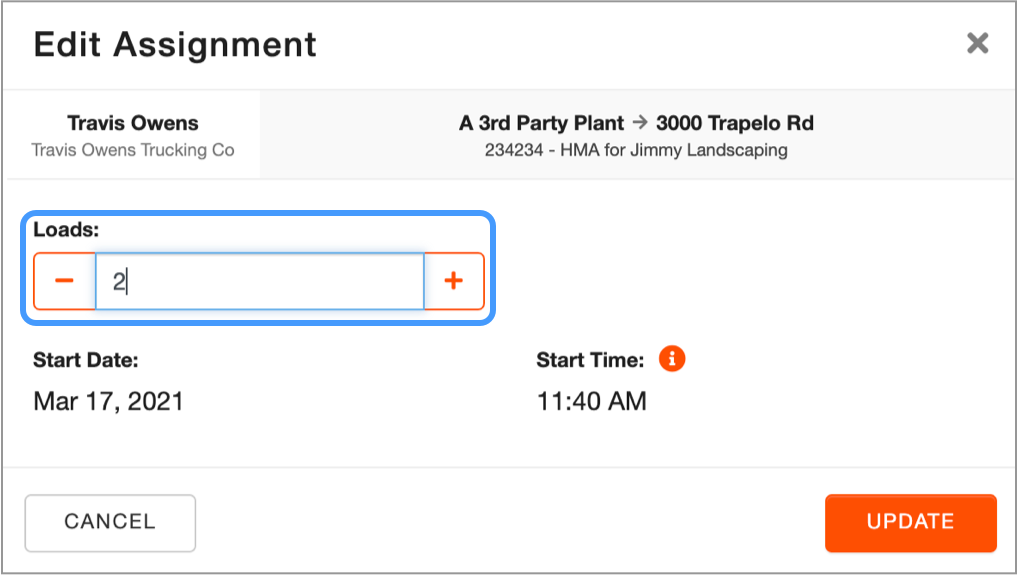 Click "+" to add more loads. Click "-" to decrease the number of assigned loads. NOTE: You will not be able to reduce the number of scheduled loads below the number that has already been delivered. If you are removing loads by manually entering a number in the Loads field, you will get an alert if you try and decrease the number of assigned loads to a value that is lower than the number of loads that have already been completed.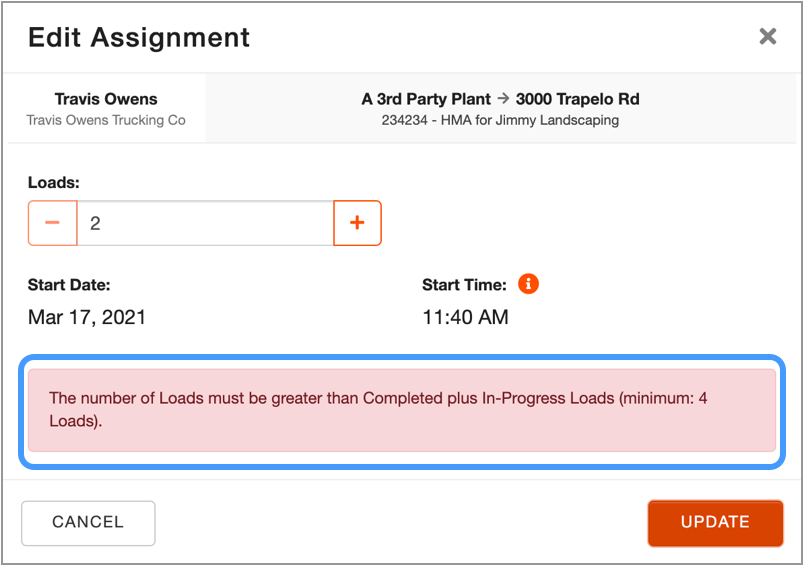 Changing the Start Time/Date of a Scheduled Dispatch Order Without Assignments
In the previous release, we added the ability for dispatchers to change the Start Time and/or Date of an existing dispatch order up until the point a load has started for any assignment - as long as no hauler has punched in. In this release, we introduced the ability to change the start time for a Dispatch Order to any date and time, as long as there are no assignments associated with that Dispatch Order.

Start Time Edit Alert
We've added an alert to notify a dispatcher if they edit a start time that exceeds the +/- 12-hour limit.

Manual Assignment Start Time Adjustment
Dispatchers can now manually adjust the start time of individual assignments. This will allow dispatchers to re-create stagger times or readjust an individual assignment's start time after editing the dispatch order's start time.
To adjust the start time of an individual assignment, hover over the assignment and click the shortcut menu. You will now see an Edit option on assignments that have not yet begun.

Enter the new time and click UPDATE.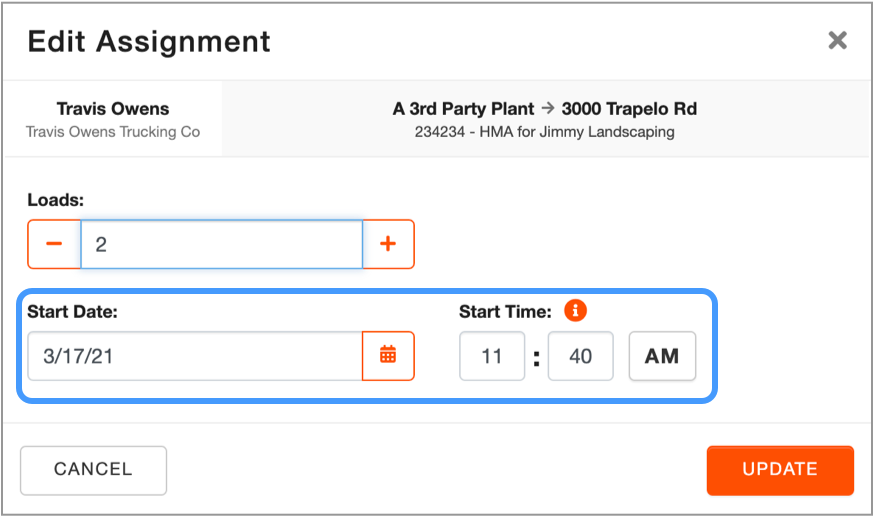 The assigned hauler will be notified of the time change.
Additional delivered load data available on MyVulcan
Content created in the Delivery Tracker (e.g. Delivery Confirmation Statuses, Field Notes, E-ticket ID's, etc.) will now be made available for importing into the My Vulcan environment. This will enable Vulcan to provide better service to its customers by avoiding having to query separate systems.